Budapest Wrap-Up: 2 Weeks in the Popular European Capital
Check any list on top the digital nomad destinations in Europe right now and you'll find the city of Budapest.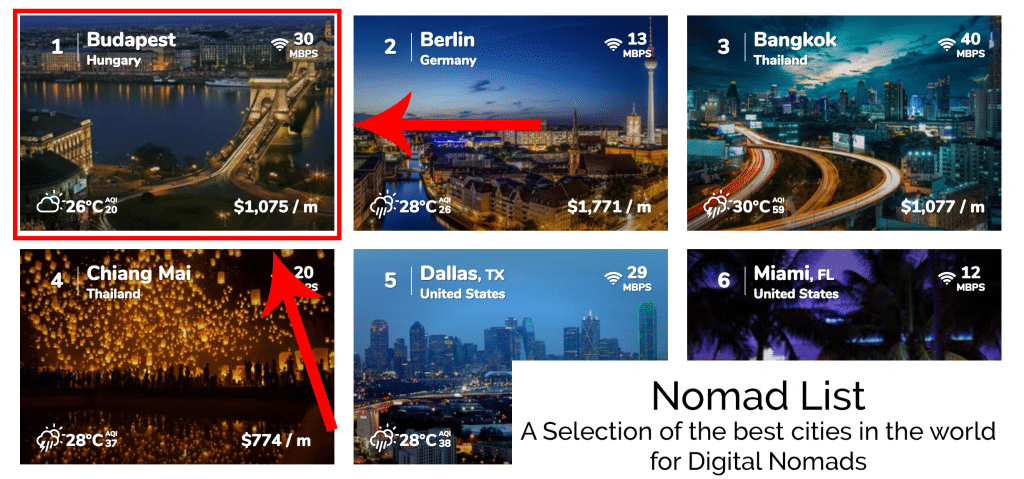 The Hungarian capital is so highly regarded that it consistently appears in the number one position of Nomad List during each European summer.
In fact, I'd heard it from numerous friends and blog posts as well, Budapest is all the rage.
So, in late May, I arrived in Budapest for a two week stay to see what all the fuss was about.
Here is my full evaluation of Budapest as a digital nomad destination.
Cafes and Coworking Spaces
For coworking in Budapest, you've got a range of options, so many that I had to make a table of them with prices (scroll to the bottom of this section for their position on the map):
| | | |
| --- | --- | --- |
| Name | Day Passes | Month Passes |
| Kaptar | €14 | €177 |
| Impact Hub | N/A | €113 + VAT* |
| Mosaik | €10 + VAT* | €130 + VAT* |
| The Hub | €10 + VAT* | €127 + VAT* |
| Collaborat8district | €12** | €107** |
* VAT for Coworking Spaces in Hungary is currently at 27%
** Collaborat8district did not specific whether this price is inclusive/exclusive of VAT
Given the price of coworking spaces in Budapest (the 27% tax doesn't help) and the fact that I was only in town for two weeks, I decided to check out only one of the spaces on my list, Kaptar.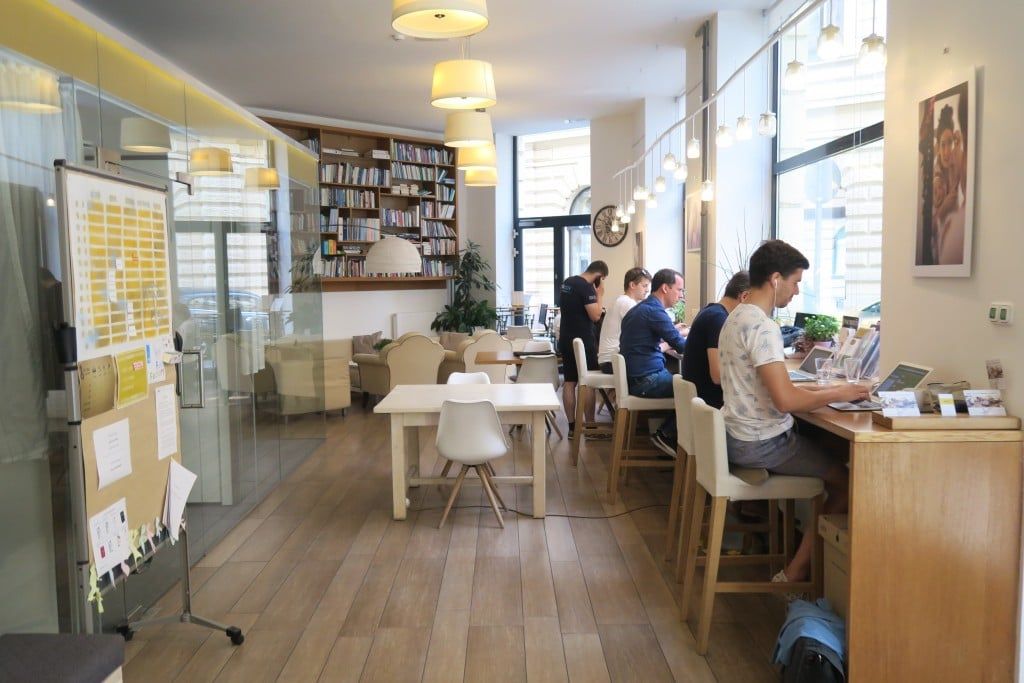 Kaptar was the coworking space I'd heard most about before arriving in Budapest. My friend Dylan Wolff had worked there and I think that it was one of the first to show up when I searched for spaces.
The hot-desk area 0f space is clean, modern and comfortable and the internet is good. My only criticism was that there was no office chairs and the tables could have had more leg room but otherwise, an example of a coworking space done well.
Speed Test Results
SSID
DOWNLOAD
UPLOAD
PING
TIME RECORDED

KAPTAR

27.52 Mbps

29.70 Mbps

4

8:22am

Surprisingly, I found the best WiFi in this cafe called Fekete, another one of Dylan's recommendations. A nice cafe but not completely suited for remote work. For the ideal cafe to study and work, I found the next space to be the best.
Speed Test Results
SSID
DOWNLOAD
UPLOAD
PING
TIME RECORDED

fekete brew 5 Ghz

154.19 Mbps

15.89 Mbps

9

2:43 pm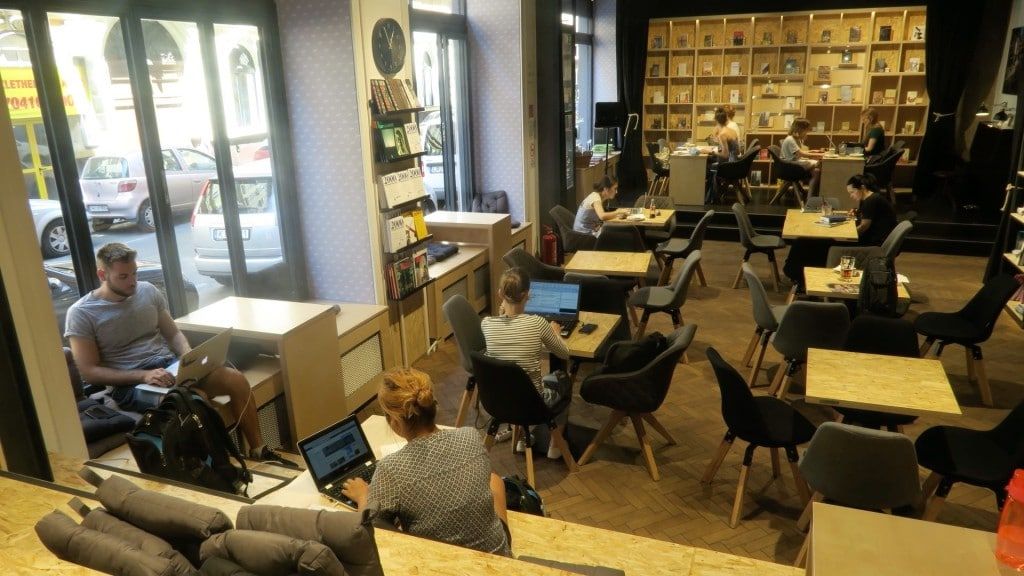 While the WiFi at Magveto was not as fast as Fekete, the space is a lot more suited to remote workers and students. I definitely felt comfortable taking out my laptop and getting to work while so many others around me were doing the same.
I must say though, that finding the right combination of ergonomics and proximity to power points was a bit of an issue.
Speed Test Results
SSID
DOWNLOAD
UPLOAD
PING
TIME RECORDED
Magveto Cafe

25.95 Mbps

13.84 Mbps

26

11:46 pm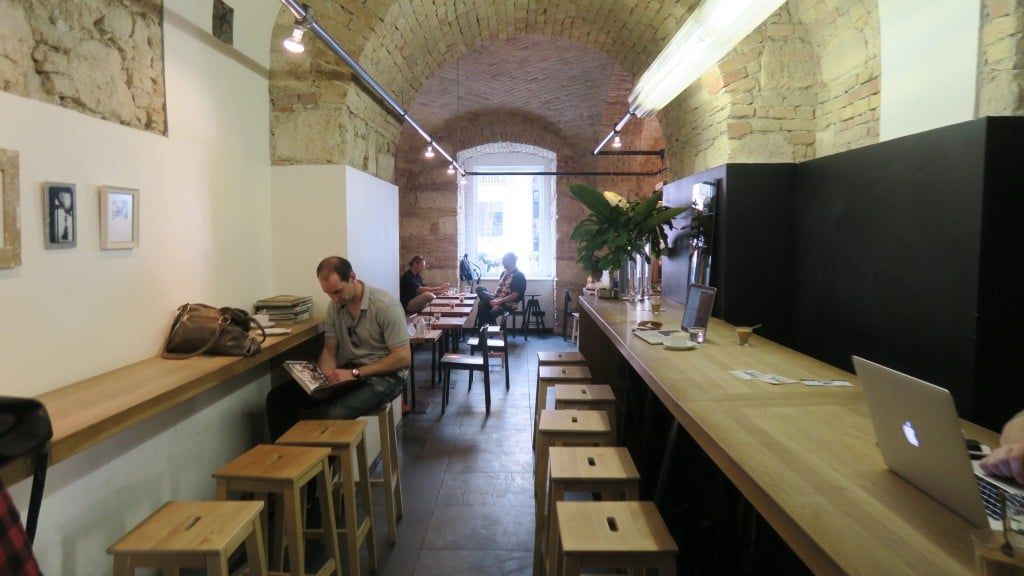 Yet another recommendation from Dylan but definitely not my ideal place to work.
If you haven't yet picked it up, I'm a bit anal when it comes to ergonomics and so a cafe like this with mainly high stools is more of a place I'd come to only if I wanted to do a standing desk.
Speed Test Results
SSID
DOWNLOAD
UPLOAD
PING
TIME RECORDED
ee-official

6.12 Mbps

6.99 Mbps

7

2:35 pm
I'm lumping Konyha and 9Bar together because I don't really have much to say about either. Both seemed open to remote workers but I personally didn't feel too comfortable in either.
Speed Test Results
Cafe
SSID
DOWNLOAD
UPLOAD
PING
TIME RECORDED
9Bar
9Bar 5Ghz Guest

31.20 Mbps

5.85 Mbps

18
4:21 pm
Konyha
konyha5G

9.44 Mbps

1.44 Mbps

15

2:03 pm
Map of the Spaces Mentioned
Legend: Coworking Spaces - Blue with Laptop, Cafes - Red with Coffee Cup
Cost of Living
While I'll admit that Budapest is great value, it's definitely not one of the cheapest place to stay as a digital nomad. Compared to Chiang Mai (the destination in which I've spent the most time), Budapest is on another level in terms of prices.
Expect a proper European city with the beauty of Western Europe but at a fraction of the cost.
Let's run through the common nomad expenses:
Accomodation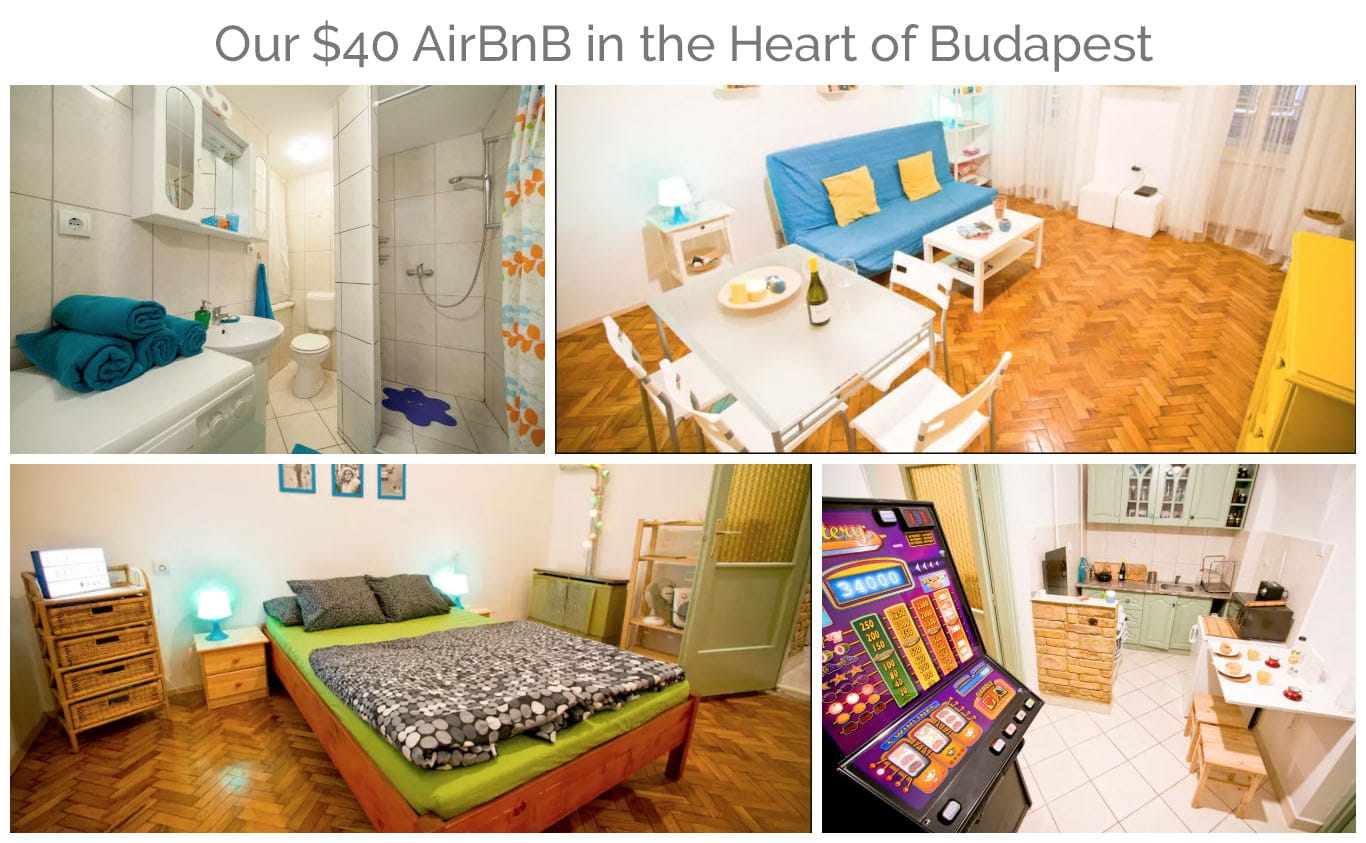 Like the title says, my girlfriend and I stayed only 2 weeks and so we didn't bother to find an apartment on the ground. Luckily for us, there were plenty of centrally located AirBnB's to choose from.
We paid about $560 USD for our two week stay but of course, you pay a premium for convenience and ability to book short-term on AirBnB. A place like this to rent on a monthly basis I'm guessing would be less than $700 USD a month (considering a 15-20% discount for monthly and the AirBnB fee of 18%).
Eating Out
In my experience, food prices in Budapest are somewhat comparable to what I'd pay back home in Australia, or at most, about 30% cheaper.
Most of the time, it'd take around 2,000 forints (~$7.30 USD) to fill me up with a single meal. When we decided to dine more up-market, I'd be paying more like 3,500 (~$13 USD) per outing but that would usually include a drink of some sort.
Proper 'Street Food' (as in South East Asia, for example) didn't seem to exist and so the cheapest meal I found was from food stands selling Gryos for 400-500 ft (~$1.50 - 1.82 USD), often times more like 700-800 ft (~$2.5 5- 2.91 USD).
Eating In
Most destinations we had traveled to before this, we'd eat out every meal but Budapest didn't feel like the best place to do that.
We ended up eating in about half the time and this was an interesting experience for me at least, as I hadn't lived this way (bar London) since I became nomadic back in Jan 2016.
I'm not used to tracking grocery prices but I can say that we spent a total of 23,423 ft on groceries (~$85 USD) for the two of us.
Going Out (Drinking)
I'm not much of a drinker but I can tell you that alcohol is quite cheap here in Budapest.
I remember when Denise's cousin, Rob (who came over from London) looked at the menu at regular cafe. "A quid for a beer?!", he exclaimed. Yes - it really is that cheap and it's available everywhere.
On occasion, I would have a beer with my meal for the same price as say a Coke or Sprite.
The one night that we did go out drinking with friends, we ended up spending a total of $21 USD for 8 drinks!
Transport
If you stay inner city, Budapest is very walkable but for those times where you need to cover a bit more distance, the public transport system in Budapest includes trams, buses and a subway system that cost around 350 ft per trip (~$1.30 USD) with discounts for multi-buys.
Just be warned that the public transport system in Budapest is super old school, which isn't necessarily a problem but more of an interesting quirk about the city.
Lifestyle / Things to Do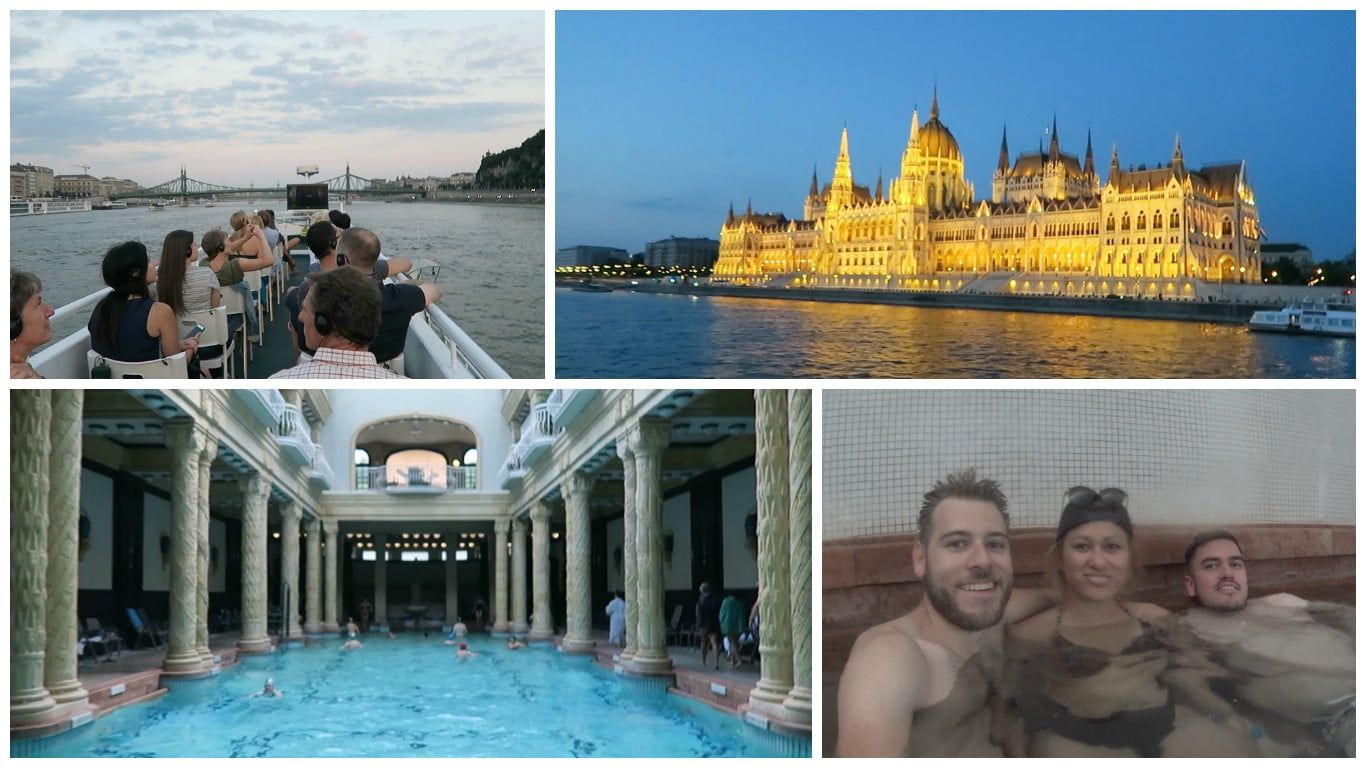 First of all, I'll say that Budapest is a very liveable city. I loved being able to walk everywhere, go for runs by the river and just take in a very beautiful and well-laid out city centre.
If you are visiting for the first time, there are few activities that I recommend that will get you well acquainted with the city.
1) Go for a cruise along the river
A river cruise along the Danube is great way to take in the beauty of the city. We used a company called Legenda who are one of the more established brands in Budapest.
The cruise cost us about $20 USD each and included a drink on board.
2) Check out one of the thermal baths
No trip to Budapest is complete without a visit to one of Budapest's famous Thermal Baths. The Széchenyi thermal bath is probably the most famous but I had read that the Gellert baths were a little more expensive but a lot more relaxing.
Inside were a range of different baths and swimming pools, both indoor and outdoor and heated at different temperatures, each with their own quirky rules (such as compulsory swimming caps in the full-length pool).
We paid about $20 USD each for this attraction also.
Final Thoughts
Perhaps the most surprising thing for me about Budapest was just how nice it was. Having lived in Asia for the past year, I guess I'm not used to that European quality. It's definitely a step-up from a place like Chiang Mai.
A very liveable city overall, the only negative I can point out about Budapest was that it felt a little too much like home. I mean, the value-for-money is a lot better than any city in Australia but I realised that I missed that exotic feeling that I had in Asia.
Also, despite ticking all the boxes, Budapest doesn't seem to have an organised digital nomad community and it seems nomads generally tend to avoid this region during the winter. That being said, I did randomly meet one local who overheard me talking about Nomad Cruise and told me that she was trying to create more of a community for nomads here.
To sum it up, Budapest is very ideal location for digital nomads during the European summer but I'm not too sure about winter yet!
Until next time,
Chris