Koh Phangan Wrap-Up: 2 Weeks as a Digital Nomad on the Island of Parties and Free Love
After staying in Chiang Mai for close to 3 months, we decided that we needed a break, an island break, something to break up the experience of city living. We decided to head to Koh Phangan.
Better known for parties and free love (the Full moon, Half moon, Black moon or any other kind of moon party), we were surprised that Koh Phangan was actually quite well set up for digital nomads.
I had met a bunch of nomads already who had spent time there and they all loved it. There was just one thing missing for me and that was of course.... a coworking space! Lucky for me, one had just opened called Beachub and I was excited to go check it out.
Coworking in Koh Phangan
Koh Phangan is home to 3 coworking spaces and numerous digital nomad friendly cafes which is quite impressive given the size of the island. I did my best to try out as much as the island had to offer and after 5 days of checking out cafes in Chiang Mai for 'Office of the Day', I was now open to both cafes and coworking spaces.
You can check out the full list of spaces I checked out in my previous post but hands down, the best place to work in Koh Phangan is the coworking space, Beachub. Beachub has only been open about 6 months but since being featured twice in Forbes magazine and being named the number 1 coworking space in Asia, it's popularity and profile has risen considerably.
Before leaving from Koh Phangan, the feedback I got about Beachub was that it was an awesome space but the community just wasn't there. In our experience, the community was kinda small but very open and friendly. In a space like Beachub it's hard not to notice new people and on our first day at the space, we were already making new friends. Apart from a group that showed up at the end, we made friends with virtually everyone there.
Cost of Living
While of course not as cheap as Chiang Mai, our expense level was comparable to the last time we spent time on a Thai island (in Koh Lanta). This time however, our food and accommodation were not part of an all-inclusive package like at KoHub.
Accommodation
In terms of accommodation, our options were kind of limited. We were initially going to stay at Tharathip Resort but Denise was able to find cheaper accommodation last minute and we switched to Golden Beach Resort just south of Ban Tai. Our rate per night was about $24 AUD (~$18.44 USD) which I'm sure would have been lower if we had gotten a monthly rental. For us, we were just looking for a short 'getaway' before heading to Ho Chi Minh City.
Golden Beach Resort had it's pros and cons. Pros: affordable, right on the beach, comfortable (but basic) room and Cons: noisy at times and hard to get to from the road outside. Luckily, we were able to hire bikes directly from the resort otherwise we would have had to traverse the long dirt road to the circle road which was a pain in the arse to carry our luggage over.
Transport
Usually I avoid riding scooter bikes at all cost but for Koh Phangan, I was fully prepared to hire one for the entire period. Like Koh Lanta, it's near impossible to get around Koh Phangan without a vehicle. I did see a few other forms of transport driving around (everything from proper taxis to travelling in the back of a pick up truck) but we didn't bother this time. We hired our bike from Golden Beach and paid 2,000 baht for rental (~$58 USD) and a total of 215 baht (~$6.20 USD) on fuel.
Food
When it comes to food, Denise and I like having variety and Koh Phangan was definitely accommodating for us. For regular Thai food we paid a little extra than what we would in Chiang Mai. Dishes were usually 50-80 baht(~$1.50-2.50 USD) as apposed to 40-60 (~$1-2 USD) but comparably better than what we usually paid in Koh Lanta. We did splurge occasionally, eating at places like Karma (180 baht, ~$5.2 USD) while we were at Beachub and a night out with friends at L'Alcove (350 baht, ~$10 USD).
A lot of our food expense came from cafes where we stayed at virtually all day working. The meals and coffee were of course more expensive than eating at Thai restaurants but we felt the expense was justified given the alternative was paying 300 baht (~$8.60 USD) each day to hang out at a coworking space.
Full Breakdown of my share of expenses
| | |
| --- | --- |
| Dates | August 21 - September 3 |
| # Days | 13 |
| Accommodation | $158.15 |
| Food + Drink | $292.23 |
| Transport (Scooter Bike & Fuel) | $48.58 |
| Entertainment (A few beers here & there) | $20.69 |
| Connectivity (Sim cards/internet) | $15.70 |
| Minor Motorbike Accident (Repairs & Medicine) | $70 |
| Transport t0/from Koh Samui | $39.74 |
| Coworking (5 days at Beachub & 1 at Focus) | $74 |
| Sub-Total | $719.09 |
| Flight from Chiang Mai to Koh Samui | $260.96 |
| Total (inc Flight) | $980.05 |
* This total does not include an $80 phone bill liability and other virtual expenses like web-hosting & business expenses
** Currency in AUD
Things to Do in Koh Phangan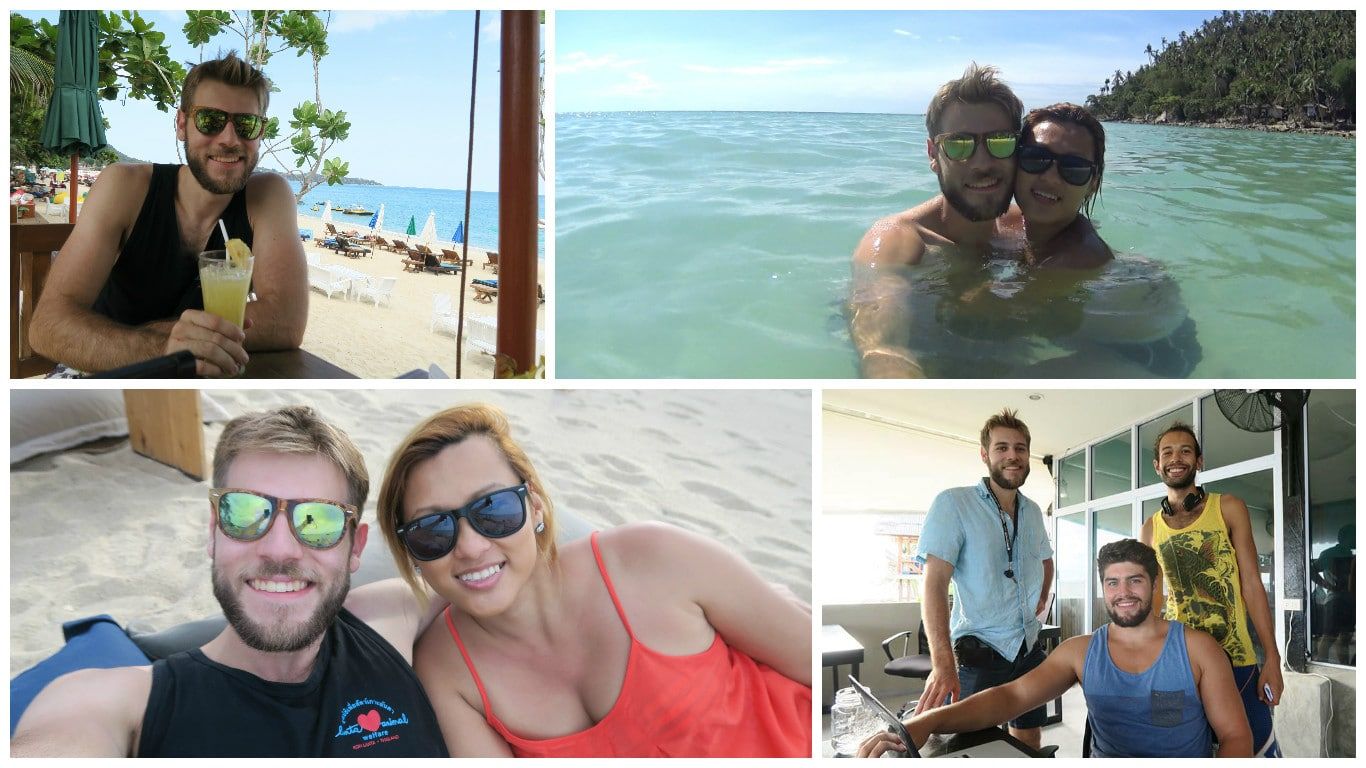 Unfortunately, for this island experience, we had less a budget as well as less time to enjoy many of the more touristy activities on and around the island. The biggest thing we missed was a weekend diving trip with other Beachubers to nearby Koh Tao. Unfortunately, we just had too much work to justify taking the weekend off so we spent half our time working and the other half checking out the various beaches around the island.
Before even arriving in Koh Phangan however, we spent a lovely weekend in next door Koh Samui, probably my favourite island in Thailand. Work was out-of-bounds for this weekend. Instead, we spent our day and a half in Samui checking out the Big Buddha, Chaweng Beach, Lamai Beach and Fisherman's Village.
Otherwise, the majority of our leisure time was spent with Beachubers and friends. We spent each Friday at Beachub for their Friday drinks, played a game of beach soccer on occasion and attended a movie night on our last Wednesday.
Now you may be thinking, "Chris! You spent 13 nights on Koh Phangan without going to a single party?". Yes, Koh Phangan is the place to go if you're looking to get drunk on the Beach and hook-up with other travellers but as busy digital nomads we had little time for all-night parties, not to mention the hangover the next day. Funny story actually - on the night of the black moon party I woke to some drunk guy throwing up on our balcony after attempting to break into our room. The next day, one of our towels and a pair of thongs (flip-flops for you non-Australians) was missing. Let's just say, I'm not too interested in getting 'munted' any time soon.
Overall
If you're thinking of checking out Koh Phangan as your next digital nomad destination, definitely do it!
Denise and I don't particularly like living on islands but if that's what you're into then Koh Phangan or Koh Lanta is definitely for you. Especially if you've got some time in between work to go out to one of the numerous parties (they're on virtually every week), you'll appreciate a trip to Koh Phangan.
It goes without saying that Koh Phangan won't have all that you can expect from living in a city. It is still an island of course! But with coworking spaces like Beachub, Focus and Koh Space, you'll be sorted for working spaces and internet.
Until next time,
Chris