Phuket Wrap-Up: 6 Days as a Digital Nomad on the Popular Thai Island
You may think that 6 days might be a short time to check out a new destination but honestly, we were ready to leave after only a few days.
Phuket is one of those notorious destinations that seems like it would have a lot to offer digital nomads but after a disappointing experience at a coliving space in Koh Keaw and a frustrating week in Patong, I am still yet to find the appeal.
Now, I know what some of you might be thinking
Chris, Why'd you decide to stay in Patong??
Let me tell ya, I understand your question.
Denise and I vowed we'd never come back after spending only a few days here as vacationers in early 2015. That particular beach is an absolute cesspool of cheap and nasty tourism and so, it was never our plan to come back to Patong.
Rather, we had arranged to stay at Phuket Stash, a coliving and coworking space in Koh Kaew.
For me, a good digital nomad destination has a mixture of community, places to work and a supportive framework for short-term living. Therefore, I choose to base myself near coworking spaces as these spots generally indicate an area where other nomads are situated and ideally, it should be a good place to work.
So, with Phuket Stash agreeing to host us for the week, we took a cab directly from the airport.
Here's where I will start off with my full evaluation of Phuket as a digital nomad destination.
Coworking Spaces & Cafes in Phuket
As I mentioned earlier, the presence of a coworking space in a particular destination generally indicates some kind of digital nomad community has formed or is forming in that destination.
For Phuket, there were three spaces that I found online. These were Phuket Stash in Koh Kaew, Hatch in Phuket Town and the newly opened Garage Society in Patong beach.
Coworking: 200 baht per day | 1,050 baht per week | 3,000 baht per month
Coliving (Shared Room) + Coworking: 400 baht per day | 2,100 baht per week | 6,000 baht per month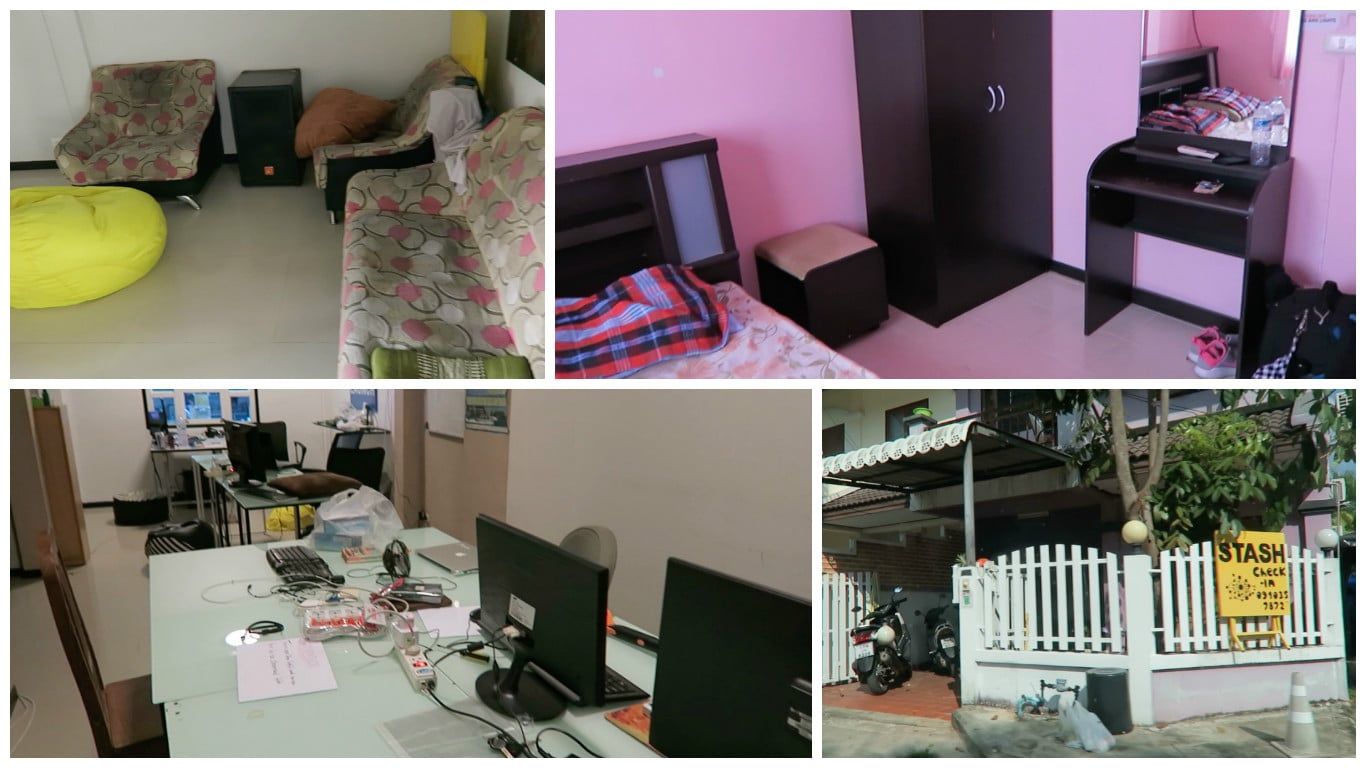 From the moment we arrived at Phuket Stash, we were met with a poor first impression and unfortunately, that didn't improve. By the time of the late afternoon, we had gone from, 'Let's give it a chance' to 'Ok, we're definitely leaving'.
The website made the place seem like it was well-located, modern and clean but the reality was much different.
We drove into Phuket Inter Villa (a small collection of houses where the space is located) wondering if we were entering the right place. When we saw the bright yellow sign however, we knew we had arrived. We paid the driver, walked to the door and gave it a knock.
With no reply, I opened the door and stuck my head inside. Suddenly, a shirtless european man approaches me, not with a hello or introduction but a message, 'Vasiliy told me to give you these'. He handed us two keys, one for our room and one for a scooter (which we had pre-arranged).
The room, much like the rest of the space, was very basic. From the moment we arrived to the moment we left, we never felt comfortable.
Even when I went downstairs to grab some footage and check out the rest of the space, I was faced with more of the same; messy workspaces, awkward interactions and dirty, old furniture. This wasn't a coliving / coworking space as much as it was a random halfway house.
The real kicker for us however was when we were faced with a myriad of problems with our scooter bike which...
Had a back seat that was completely jammed and therefore we had no way to refuel
Was hard to start, and
Had a broken stand that had to be forcefully pushed up and down to get it into position
After about 20mins of trying to get the bike started at the mall (with help with two random Thai people), we decided to drive it home and give up on Stash all together.
Unfortunately, we left before gathering much more information about the workspace but from what we had seen, I wouldn't even consider it a proper coworking space.
My objective third-person view: Phuket Stash is probably only for those of you who are interested in a more hostel kind of experience. It's cheap and as long as you have your own transport, you could grab groceries, cook at home and hit up the beaches on the weekend.
300 baht per day | 1,400 baht for 5 days | 6,000 baht per month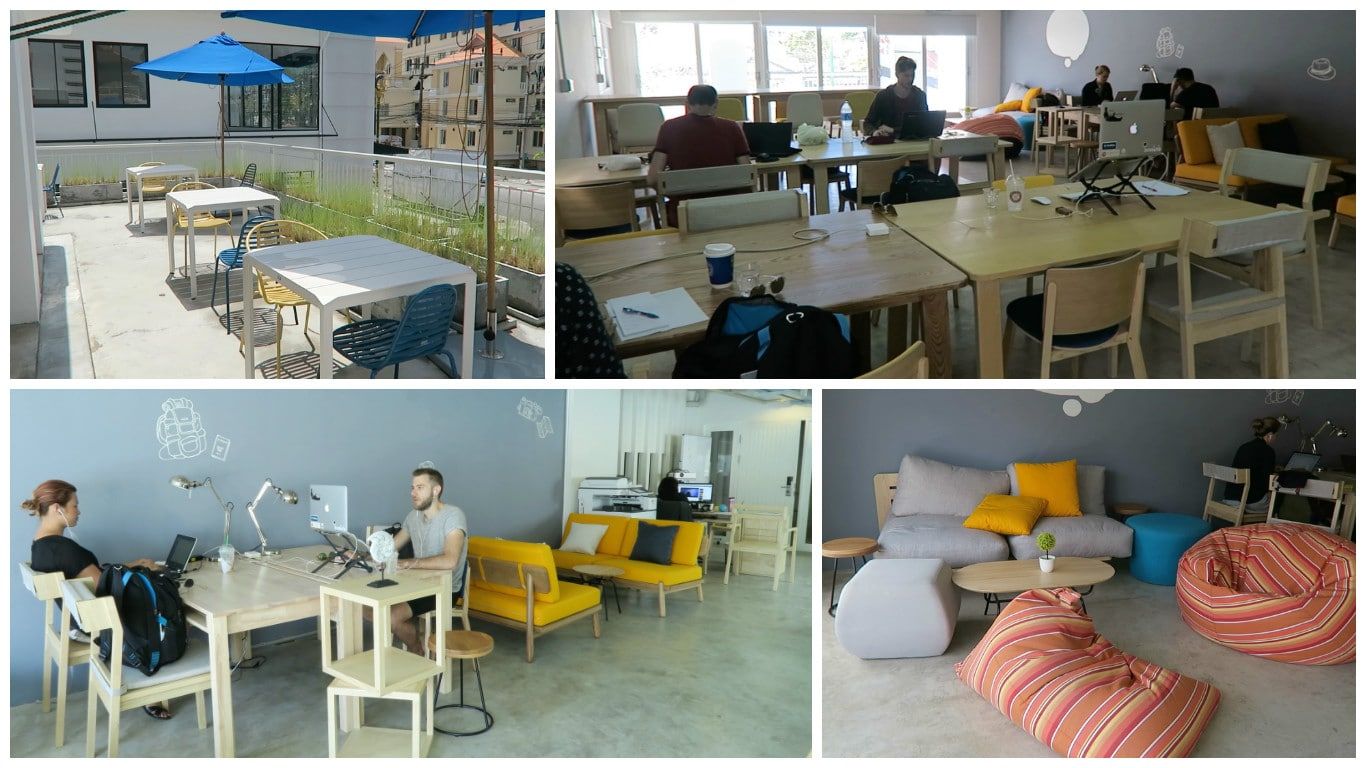 Probably the classiest place to work in Patong Beach, checking out Garage Society was the main reason we decided to locate ourselves in Patong beach after our quick departure from Phuket Stash.
As you can see from the photos, it's very snazzy and modern however, at 300 baht a day or 6,000 baht a month, it does come at a premium.
The only thing that surprised me about the space was just how quiet it was. The bean bags and laid-back seating arrangements suggested to me that it would be a good place to chat and mingle with other members but in fact, the space is just one room and obviously, having a productive space to work is priority. I would hope that over time, Garage will put in an extra room or collaborative space as connection with the community is a major value add for people like me.
That being said, it is still early days for the space. Events and Programming manager, James Bernardo did express to me over the phone that this space will evolve over time and that they hope to put on more events and create more of a community around the space. The reality however, is that the nature of Patong is very much a transient place and therefore, the space is predominantly catered towards nomads who are just passing through.
Speed Test:

Starting at 100 baht for 2 hours up to 250 baht for a whole day | Multi-day pass start at 1,000 baht for 5 days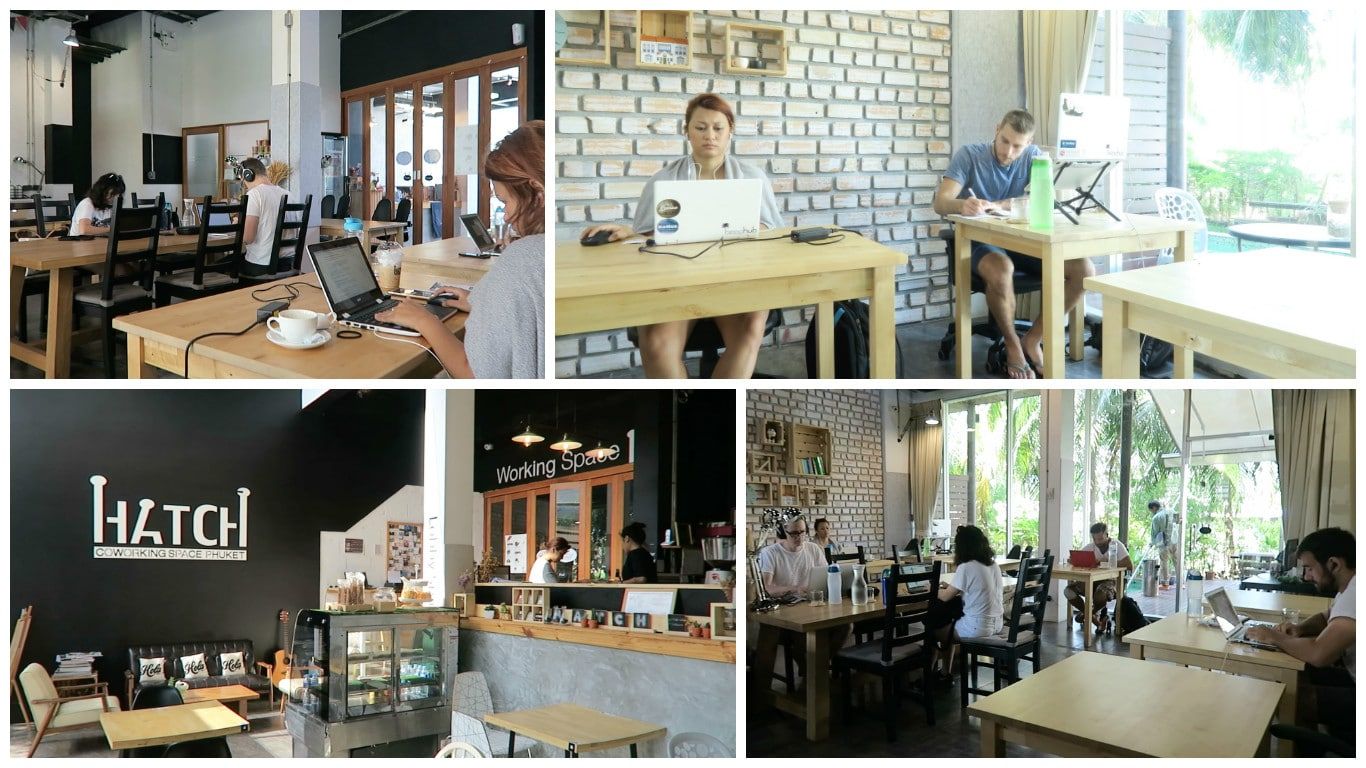 While the turnover of coworking spaces in Phuket Town seems to be quite high, the one space that has stood the test of time is Hatch. Put simply, I can definitely understand why.
Hatch Coworking Space is the perfect mixture of cafe and coworking space. If you just want to grab a coffee while you check emails, you can simply hang out in the front section but if you'd like more of desk setup with super ergonomic chairs, you can pay as little as 100 baht and get access to the coworking space for 2 hours.
The space is setup perfectly for transient workers. It's situated across from a mall with a food court for when you're feeling peckish and they will cater to you with water and coffee if you hang out in coworking space.
The only issue is if you want to work here for a whole month, it can get expensive. 5,700 baht is the rate for a full 30 days at Hatch but this is indicative of a destination in Phuket where it's unlikely that many will stick around for a whole month, working out of the one location.
The presence of Hatch in Phuket town and Garage Society was the reason why our decision on where to stay was between these two locations. We ended up choosing Patong in the end but if we came back, Phuket town for us, is definitely the better option.
Speed test:

Accommodation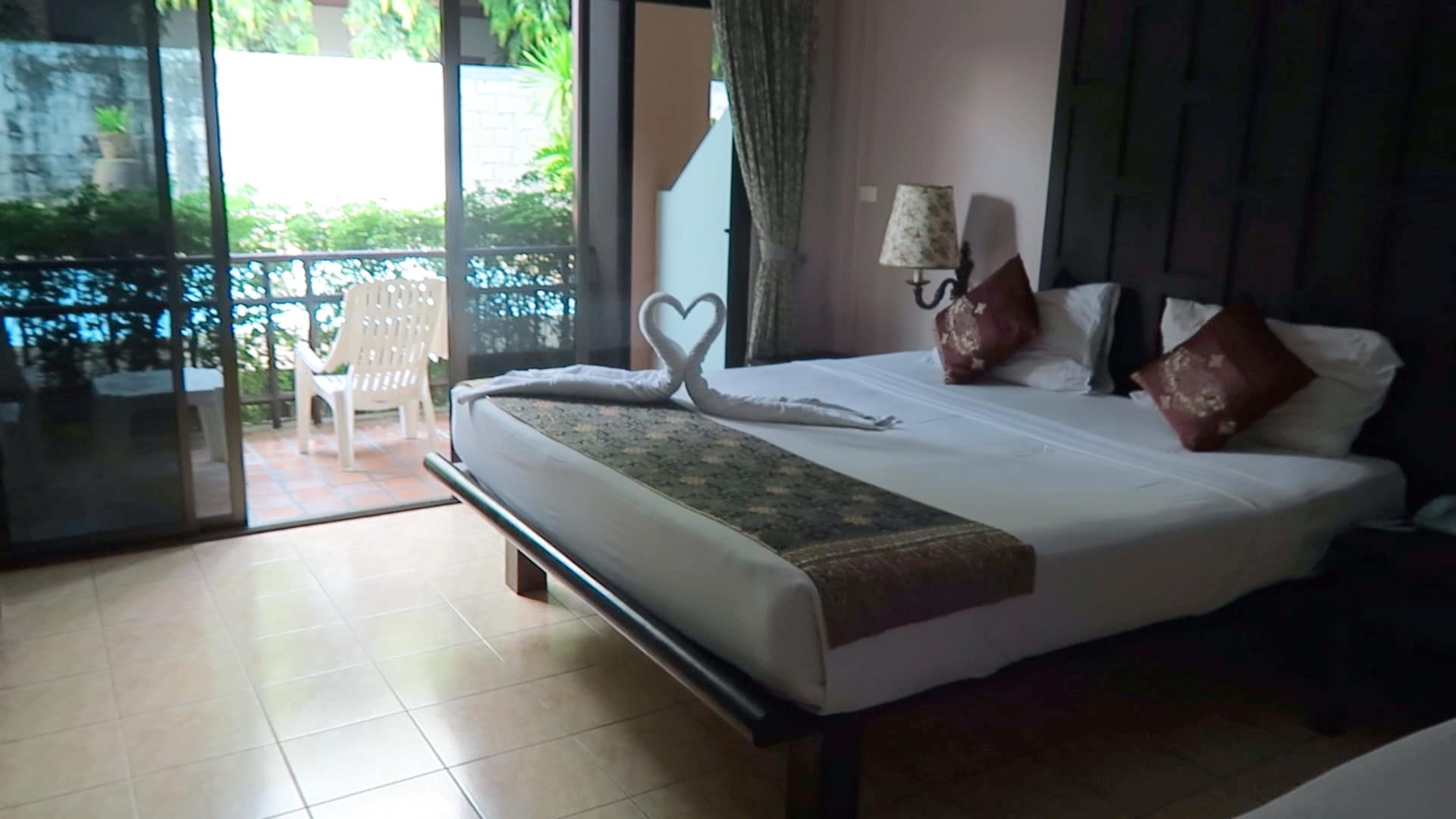 As we did stay only 6 days in Phuket, we did not look for an apartment.
As mentioned earlier, the plan was actually to stay at Phuket Stash but when that felt through, we knew that the easiest and cheapest option would be to stay in a hotel.
Our room (pictured above) cost about $28 AUD (~$20 USD) per night which we felt was quite reasonable given its position in Patong, the most touristy beach in all of Phuket.
I'm sure that if you wanted to stay in Phuket on a long-term basis, it should be easy enough to find an apartment on a month-to-month basis, as is the case in most most places in Thailand. However, I'd suggest against staying too deep into the tourist hotspots of Patong beach and even Kata or Karon.
During my conversation with James Bernardo from Garage Society, I was informed that there tended to be a few digital entrepreneurs hanging out in Chalong, the area best known as the place to try Muay Thai in Thailand. To me, that made sense, as I don't quite see why digital nomads would choose Phuket over other islands in Thailand like Koh Lanta and Koh Phangan unless they were here to train Muay Thai.
Other than that, I think Phuket town would most likely be the best place to situate as a digital nomad given that it's far aware from the cheap and nasty tourist area of Patong and in close proximity to many more chilled-out cafes as well as Hatch.
Things to Do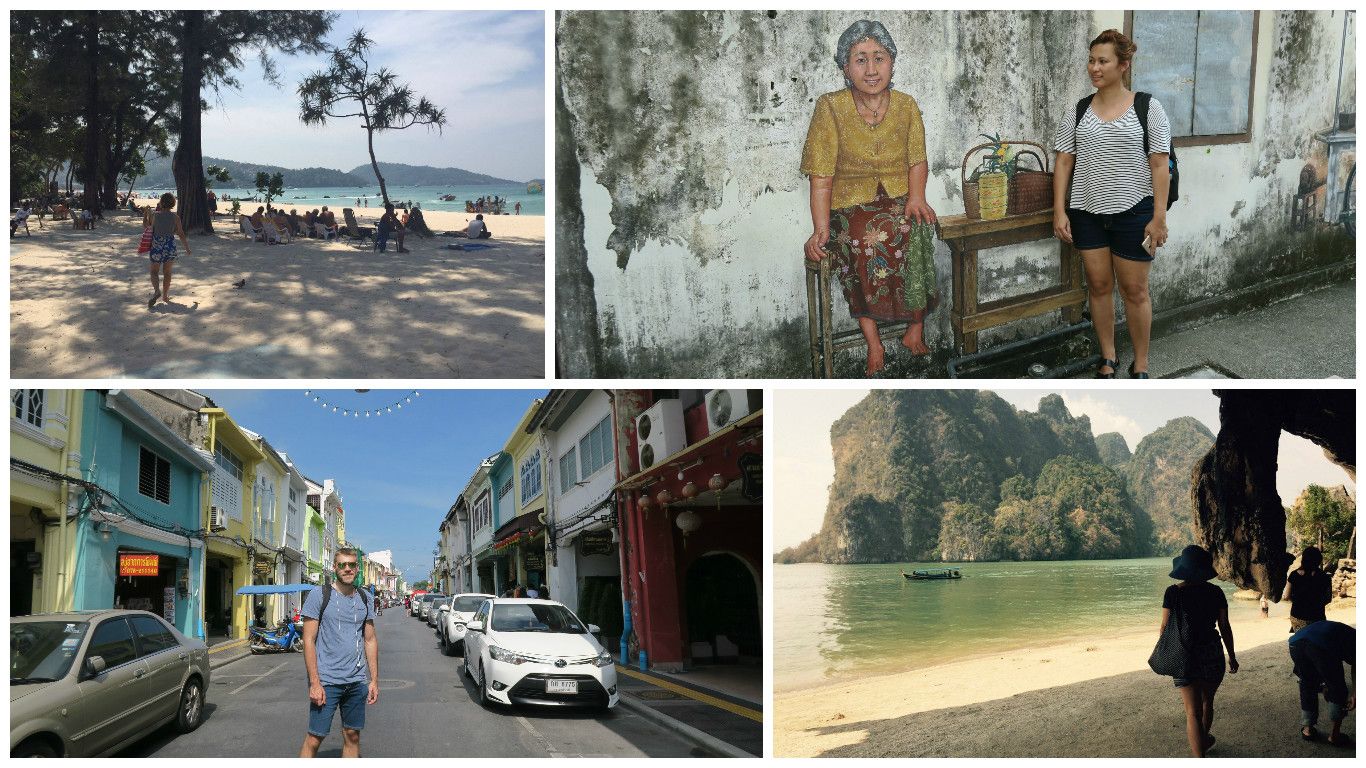 Much like in my destination report for Chiang Mai, I'm gonna cheat a little here and use some examples from our trip to Phuket back in 2015.
Spending only 5 full days in Phuket over Monday to Friday did not leave us much time for leisure however, our transport issue made it hard to get around anyway.
One warning I have for newcomers to Phuket is that the transport system is heavily controlled by the 'taxi mafia' and the prices to get from one beach to another - yet alone across the island -  is exorbitantly high for Thai standards. Even Uber, which offered reasonable rates back in 2015 has now been pushed out of Phuket to protect the over-the-top tourist rates.
Suspecting this, our plan was to hire a bike but finding a scooter hire in Patong beach without surrendering our passports was near impossible. Stash had us sorted for a really great price but as mentioned above, that hire did not last long.
Anyways, to quit my complaining and get on with some of things you can experience in Patong, well, there's beaches, boat trips and well.... more beaches.
Yeah, Phuket is one of those very touristy places. Most foreigners who come to Phuket I reckon, just hang out at their hotel, hit up the beach and go on any one of the day trips you'll find on Tripadvisor.
The coolest aspect of Phuket's location is, in my mind, it's proximity to Phang Nga bay and other islands. Heading out into the bay on a day trip back in 2015 was one of the highlights of our time in Thailand. However, staying in Koh Lanta offers the same proximity, eliminating any need for me personally to come back to Phuket.
Overall
Wrapping up, it's been interesting to come back to Phuket as a digital nomad.
For me, seeing Garage Society and Hatch were the highlights of an otherwise inconvenient and frustrating experience in Phuket.
I can't see myself ever coming back here again if not for wanting to train Muay Thai.
The thing about Thailand is that it simply has so many other locations that are so suited to living the digital nomad lifestyle that I end up comparing everything to them. The truth is that between Koh Lanta, Koh Phangan and Chiang Mai, I don't feel the need to venture out into other destinations in Thailand unless of course, I'm gathering research for this blog or my YouTube channel.
For me, the desire to head to Phuket was simply this - research.
Speaking of which, I'm going to be breaking down everything I've learned about the 6 top digital nomad destinations that I've spent time in over the last year in an upcoming video. Make sure to subscribe to my YouTube channel to check that one out when it drops in April.
Until next time,
Chris