Ho Chi Minh City Wrap-Up: One Month as a Digital Nomad in Busy & Bustling Saigon
People say you either love or hate Vietnam and after one month in the nation's financial capital, I can't say that I 'hate' Vietnam but it definitely wasn't the most comfortable place to live and work.
After the relaxed quietness of Koh Phangan, being in Ho Chi Minh was like walking into a war zone. Dodging motorbikes and cars coming at all angles - including the footpath - was a daily reality as well as the 6am involuntary wake-up calls from street merchants either shouting or blasting speakers at full volume.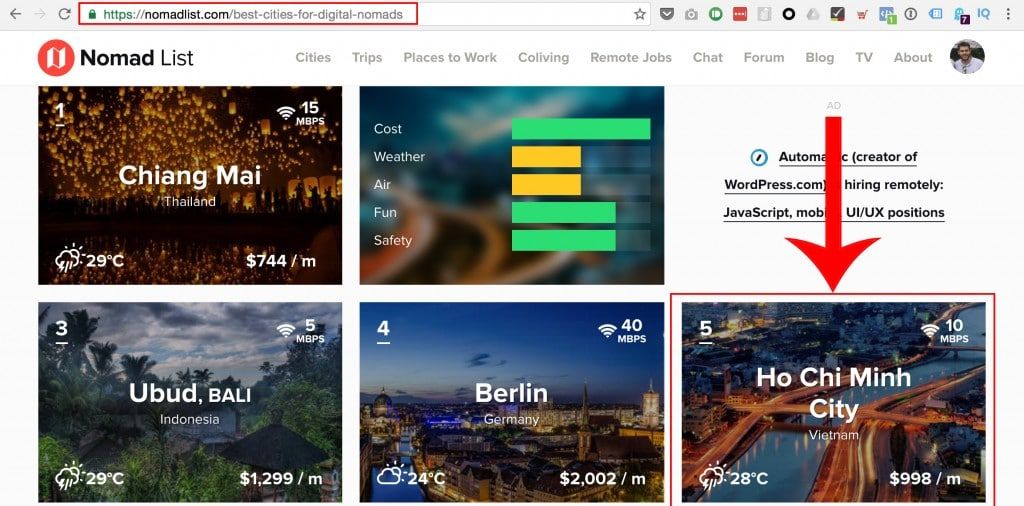 I was sold on the idea of staying in Saigon after listening to all the hype - the city seems to make its way onto every list of top digital nomad destinations  - but after one month, I can say that, while I understand why people would talk highly of it, I don't believe it to be a great 'digital nomad destination'.
Definitely when it comes to cost of living, Saigon is a winner but what it lacked for me was a community of like-minded digital nomads, something that I had grown accustomed to in places like Chiang Mai, Bali, Koh Lanta and Koh Phangan.
The following is my evaluation of Saigon after one month living and working in the city as a digital nomad.
Coworking in Ho Chi Minh City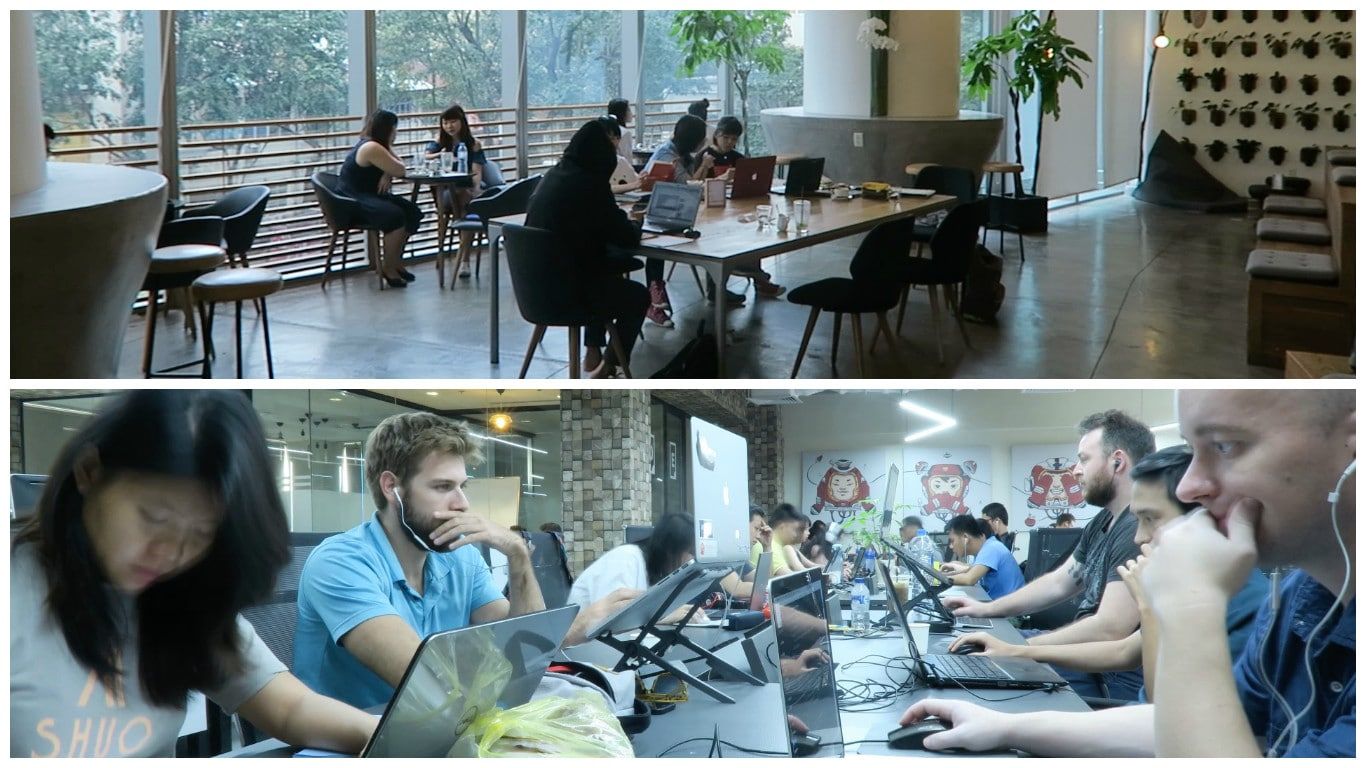 Coworking is always a major aspect that I consider when choosing my next destination. Whether I'm going somewhere for a week or a few months, I always select a coworking space ahead of time as I simply hate working from home. For Saigon, the space that I set my heart on was Dreamplex.
Dreamplex is a relatively new coworking space (opened November of 2015) and is very popular with both locals and expats. Everyone I spoke to about Saigon had told me Dreamplex was the best spot for working in Ho Chi Minh city and so, on my first Monday, I signed up for a full month's membership for only 2,000,000 dong (aprox. $90 USD).
If you're looking for some of the fastest and most reliable internet in District 1, you'll likely love Dreamplex. It's very much an office environment, so everything from internet to ergonomic chairs is very well done.
The only disappointing thing about Dreamplex was the social aspect. While Dreamplex is a very reliable and comfortable place to work, it's not the best place to meet other digital nomads. Most of the people that work out of Dreamplex (at least, while I was there) are locals and the rest seem to be focused on work and business rather than being a part of a 'digital nomad community'. It's a very subtle difference and something Denise and I discuss in my latest podcast episode.
In terms of meeting other digital nomads, the space I found most social was WORK Saigon, a space that is setup as a coworking space but looks and feels like a cafe. Each time I spent time working at WORK Saigon, I met someone who recognised me either from YouTube or from bumping into me at another coworking space somewhere in the world.
Also worth a mention is Nest Cafe situated in the Bitexco Financial Tower in the middle of the main tourist area in Saigon. It's a space that reminds me a little of CAMP in Chiang Mai due to its position, the glass walls and high book shelves. It's not the most social place, nor is the best setup for working long hours but it is a nice place to come and get some work done on the weekends or on a casual work day.
Cost of Living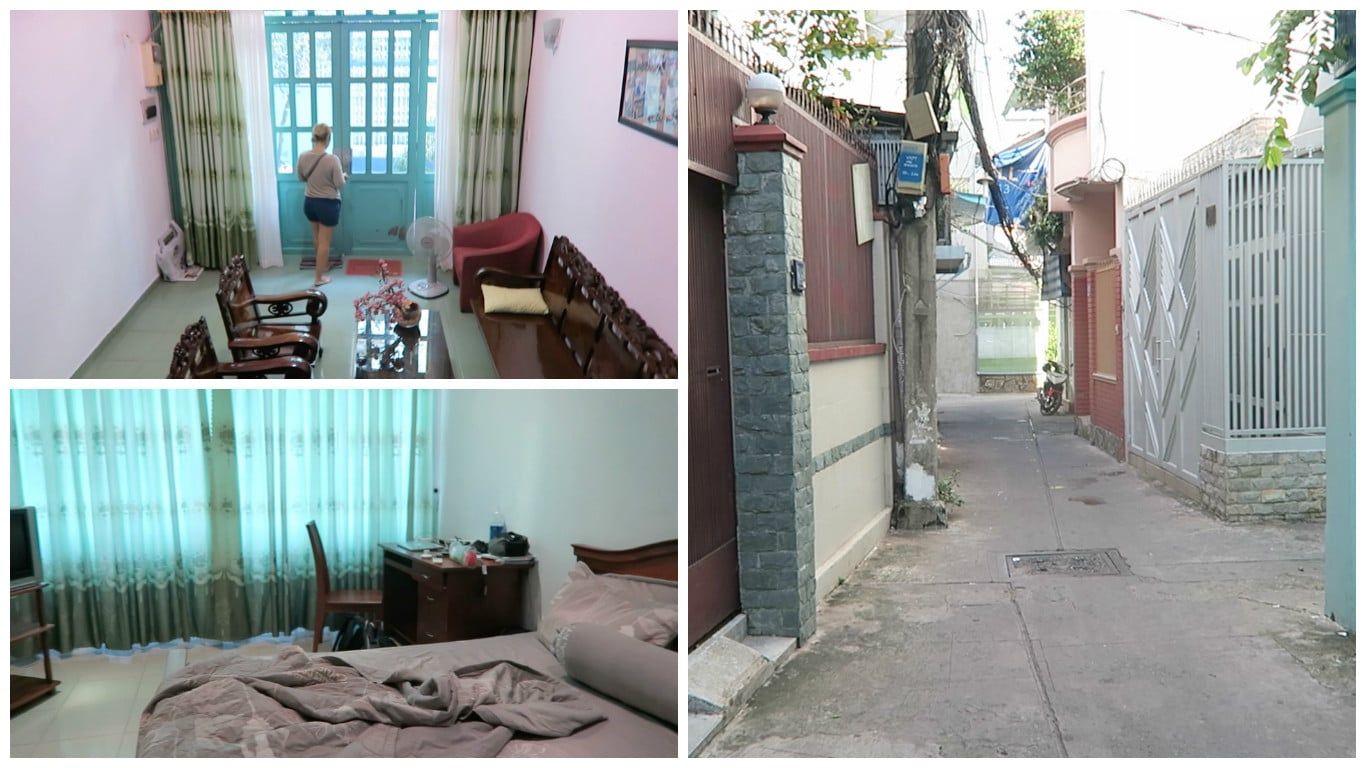 At the end of the month, we found our expenses to be comparable to what we were spending in usual base, Chiang Mai.
Accommodation
We had heard from friends that it should be easy to find an apartment in Saigon for our usual budget of around $350 USD but when we searched online, we struggled to find any 'apartments' with that budget. We soon discovered that for the price you can get your own studio apartment in Chiang Mai, you could really only afford a room in a shared house in Saigon. So, we sucked it up and agreed to stay at the house pictured above for $350 USD for the month plus bills (which ended up to be $35.80 USD).
At first we were quite happy with the situation. Each floor had it's own bathroom and only 2 bedrooms so it was never an issue that we had to share. In fact, for the first few nights it seemed like we had the entire place to ourselves. The only issue was when new guests would arrive, the noise would travel like crazy, affecting Denise's work days (as she likes to work from home) and our sleep at night. Still, for $350 USD to live in the city centre, we couldn't complain.
Transport
Coming back to a major city, it was great to finally have access to Uber and Grab again and boy did we need them!
Denise and I don't like to ride mopeds unless we really have to and so Uber and Grab in Saigon were lifesavers, especially given that we found the overall level of English in the city to be quite poor.
It's amazing to be able to put our pickup location and final destination directly into the app and have the payments handled so that we can just hop in and out without having to deal with the language barrier at all. The best part however, is the price.
After opening up all of my receipts from Uber and calculating the averages, I can say that the average trip recorded on my Uber account was 43,763 dong (aprox $2 USD) for a distance of 4.28kms and a duration of 15 minutes (including surge fares). Each of our trips were on Uber X but if you're travelling as a solo nomad, you can always hop on the back of a bike using either app to get around for even cheaper.
If you're absolute nerd like me you can find the full summary of all 22 trips on my Uber account here ☺.
Food
Food is a big deal for Denise and I and after our first weekend of bad meals in the city, we thought we were in for a tough month. Luckily, we discovered more options that were still local but more attuned to our western palates. As the week's went on however, we found the variety in our local area to be quite lacking.
You see, we'd been spoilt with food options in Thailand. From Pad Thai to Green Curry, there were so many options! But this article is about Vietnam, not Chiang Mai and I'm sure readers are getting sick of me talk about how great Chiang Mai is. So, I'll hold it in and tell you guys what you can expect to pay for both local and foreign food.
An average street food meal for us would cost anywhere from 30,000 to 80,000 dong (aprox. $1.35 to $4.71 USD) and a meal delivered or at a restaurant cost anywhere from 100,000 to 250,000 dong (aprox. $5.90 to $11.20 USD). The prices varied so much that it's hard to give a range, so instead, I'll shoot you a few examples:
A Bowl of Street Phở = 30k VND ($1.35 USD)
A standard meal at Burger King = 150k VND ($6.73 USD)
A Banh Mi Sandwich from a street vendor = 15k VND ($0.67 USD)
Iced Coffee from a Street Vendor = 10k VND ($0.45 USD)
Korean BBQ Dinner = 271.5k VND ($12.22 USD)
Breakfast at WORK Saigon = 126k VND ($5.67 USD)
As you can see, the food cost varies a lot in Saigon and there's definitely more expensive restaurants than the ones we went to. Especially for western food, the cost is quite high, even when you take into consideration that we are in Asia. For example, we couldn't find a pizza cheaper than 150k VND ($6.73 USD) and that's not even large enough to feed me!
Full Breakdown of my share of expenses
| | |
| --- | --- |
| Dates | September 3 to September 30 |
| # Days | 28 |
| VISA (all inclusive) | $109.75 |
| Accommodation | $275.88 |
| Food + Drink | $517.4 |
| Transport (Basically Uber & Grab) | $98.72 |
| Entertainment (A tour of the Mekong Delta) | $79.26 |
| Connectivity (Sim cards/internet) | Included in our rent |
| Relaxation (a few massages) | $36.88 |
| Coworking (1 month at Dreamplex) | $140 |
| Miscellaneous | $75.11 |
| Sub-Total | $1,333 |
| Flight from Koh Samui | $333.57 |
| Total (inc Flight) | $1,666.57 AUD |
* This total does not include an $80 phone bill liability and other virtual expenses like web-hosting & business expenses
** Currency in AUD
Things to Do in Ho Chi Minh City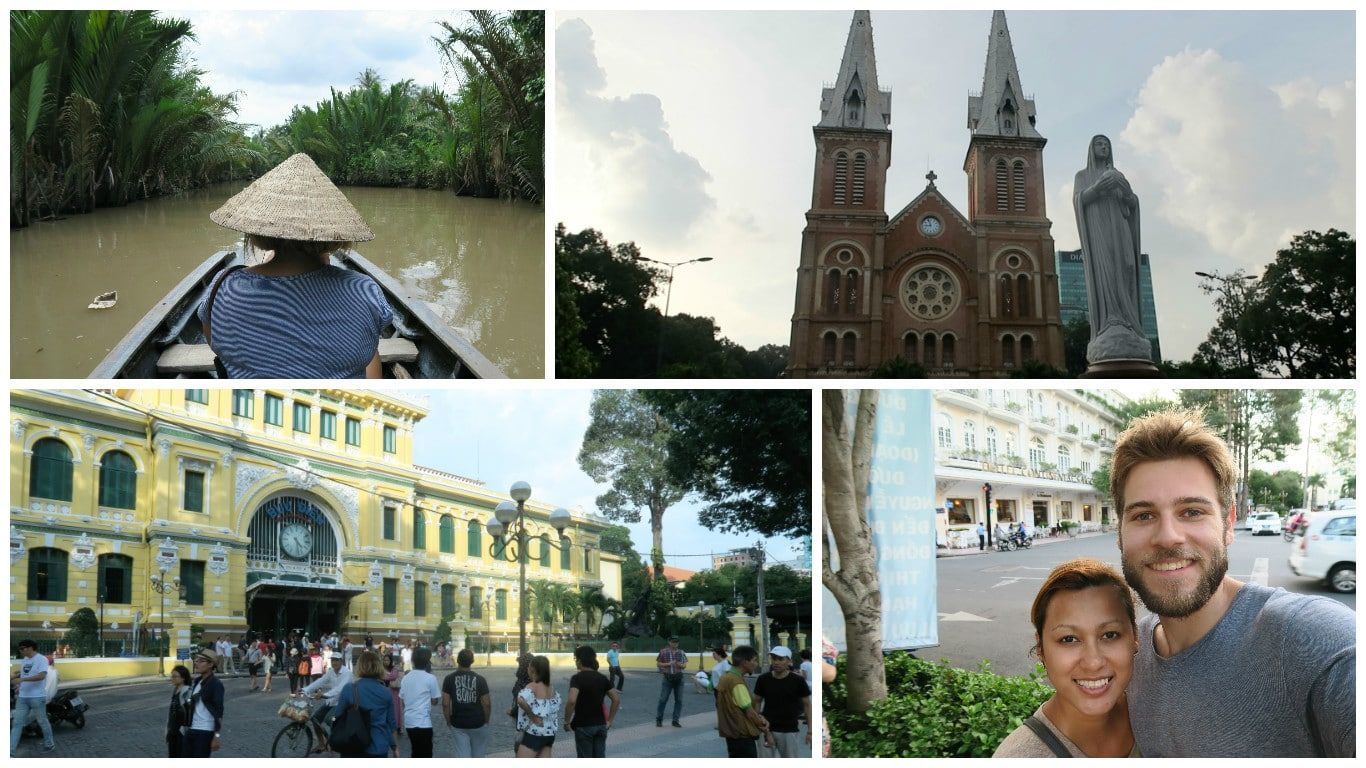 Once again, Denise and I were in bootstrapping mode while we were in Ho Chi Minh City. We worked most of the time, spending weekdays on our day jobs and weekends on personal projects. It was here in Saigon that I finally finished my book and published it on Amazon as well as the usual weekly routine of creating videos and podcast episodes.
That being said, we used off-work time mainly just to explore the city. Needless to say, it's a very large place with over 10 different districts each the size of a small city. We stayed in District 1 but used the weekends to check out district 2 and 7. The Thảo Điền ward in District 2 is one of the nicer areas in Ho Chi Minh for westerners like us and the area around Crescent Mall in District 7 was probably the most modern area we found in the city.
We did consider throughout our stay to do something touristy while we were here and the only tour that really got us excited was the Mekong Delta. I'm so glad that on our last Sunday in Saigon, we decided to check it out. While we found tours from local tourism agents for as little as $10 USD, we decided to go with a reputable company by the name of Ginkgo Voyage.
If you're interested in seeing what we got up to in the Mekong Delta, check out my video on YouTube.
Overall
At the very least, Denise and I came out of Ho Chi Minh City with an amazing Mekong Delta experience, a belly full of cheap Vietnamese food and another month of remote work under our belt.
As I talk about with Denise in the podcast episode, I was really hoping to find a digital nomad community here in Saigon but after searching through forums, blogs, personal recommendations and Facebook groups, I couldn't find any meetups or networking events for digital nomads.
That being said, when it comes to the essentials of any digital nomad destination (ie. fast and reliable internet and affordable short-term cost of living), Saigon definitely fits the bill.
This time, we spent the whole of our time in the nation's financial capital but we will be back! There is so much yet to see in Vietnam and we hope to explore it when we have some more time on our hands.
Until next time,
Chris