Siem Reap Wrap-Up: 1 Week in Cambodia as a Digital Nomad
We arrived in Siem Reap filled with hopes and dreams of discovering another up-and-coming digital nomad destination. About 5 days in however, we were searching online for another destination we could somehow fit into our calendar before flying back to Chiang Mai only two days later!
This article has been the hardest to write out of all my destination reports so far. I'm going to be honest, I didn't like Siem Reap at all but for the purpose of this article, I'm going to try to be as impartial as possible.
Cambodia as a country has had a lot to deal with since it's independence in 1953 (and even before that) and I just want to mention up-front that Cambodia is still a developing country. Please know that I don't mean to be insensitive by offering my critique of Siem Reap as a digital nomad destination.
With that said, lets get into my evaluation of one week in Siem Reap!
Coworking in Siem Reap

After a quick Google search, there appears to be only two 'proper' coworking spaces in Siem Reap, AngkorHub and The 1961 Coworking and Art Space (by proper I mean a place specifically designed for work, not a cafe).
After one week in Siem Reap, I had spent 3 days at AngkorHub but none at 1961. In hindsight, I should have checked out 1961 as well but to be honest, I was already set on AngkorHub so I didn't think too much about it. There's a few other spots to get your work done (not coworking spaces) like Common Grounds Cafe but overall, Siem Reap is no Chiang Mai.
Through AngkorHub, I got to meet a few of the nomads who called Siem Reap their base and I was curious why they chose this city over some of the more established or exotic locations such as Chiang Mai or Bali. When I asked them, they all said the same thing - VISAs.
In Cambodia, foreigners can simply pay for a 6 month VISA and not have to do border runs every 2-3 months. I was surprised. The nomads I spoke to didn't say anything about the food, the weather, the people - nup - the VISA was what it was all about. Maybe I haven't been travelling enough yet but to me, those things come first before the VISA situation. Regardless, if VISAs are your main concern, you may find Cambodia to be your ideal location.
Cost of Living
Accommodation
For short-term accommodation, it seems Siem Reap is quite affordable. We paid $22 AUD (~$15 USD) per night to stay in a pretty nice studio room at Owl Inn, a short walk from many restaurants as well as AngkorHub. One thing to note however, is that the price can go up significantly during high season. At Owl Inn for example, their prices go up $10 USD per night during the European/North American winter - that's almost double!
For long term accommodation, I can't comment directly but the cheapest I could find on AirBnB was around $300 AUD (private room) which probably means you could book something 'on the ground' for maybe $200 AUD.
Transport
For the most part, we walked everywhere in Siem Reap but for the few times we did use a tuk tuk, the cost was $20 USD for a full day exploring the temples (starting at 4:45am and ending at Midday) and $2 USD for a short trip 5-10mins up the road.
One thing you'll notice during low season is that the tuk tuk drivers really hustle you as you walk down the street. Even an extra $5 tip on a trip where the driver earned $20 USD is enough to make the driver's day. These drivers really struggle during low season so if you get good service, you should consider a little tip at the end. Chances are it's going to mean a lot more for them than you.
Food
Much like our experience in Bali, we struggled when it came to finding cheap local food as the majority of restaurants were aimed at tourists. Our cheapest meal, a Cambodian style east-west sandwich from a street-cart was only $0.50 USD but other than that, the cheapest meals we found at restaurants were somewhere between $3 and $5 USD. These meals were generally small and when we tried to splurge a little more (eg. paying $7 for bowl of Pasta) we were very disappointed with the quality.
If you're reading this with a western perspective, you might be thinking "Quit your complaining Chris! That's still quite cheap" and yes, I understand that it may still be quite cheap by comparison to the west however we've been in Asia for the last 4 months and this is expensive by comparison. Even our tuk tuk driver noted that the food in Siem Reap was disproportionately expensive compared to wages of the local people. Again, I understand that Cambodia is still a developing country so I'm not here judge but I am here to inform any digital nomads looking at Siem Reap as a destination.
Full Breakdown of my share of expenses
Dates

May 13 - 21

# Days

8

VISA

$45.71

Accommodation

$88

Food + Drink

$187

Transport

$21.11

Entertainment (The Temple Tour)

$58.57

Connectivity (Sim cards/internet)

$9.98

Other

$1.07

Coworking (3 days at AngkorHub)

$21.42

Sub-Total

$432.86

Flight in from Koh Lanta

$161.5

Total (inc Flight)

$594.36

*
* This total does not include an $80 phone bill liability and other virtual expenses like web-hosting
** Currency in AUD
Things to do in Siem Reap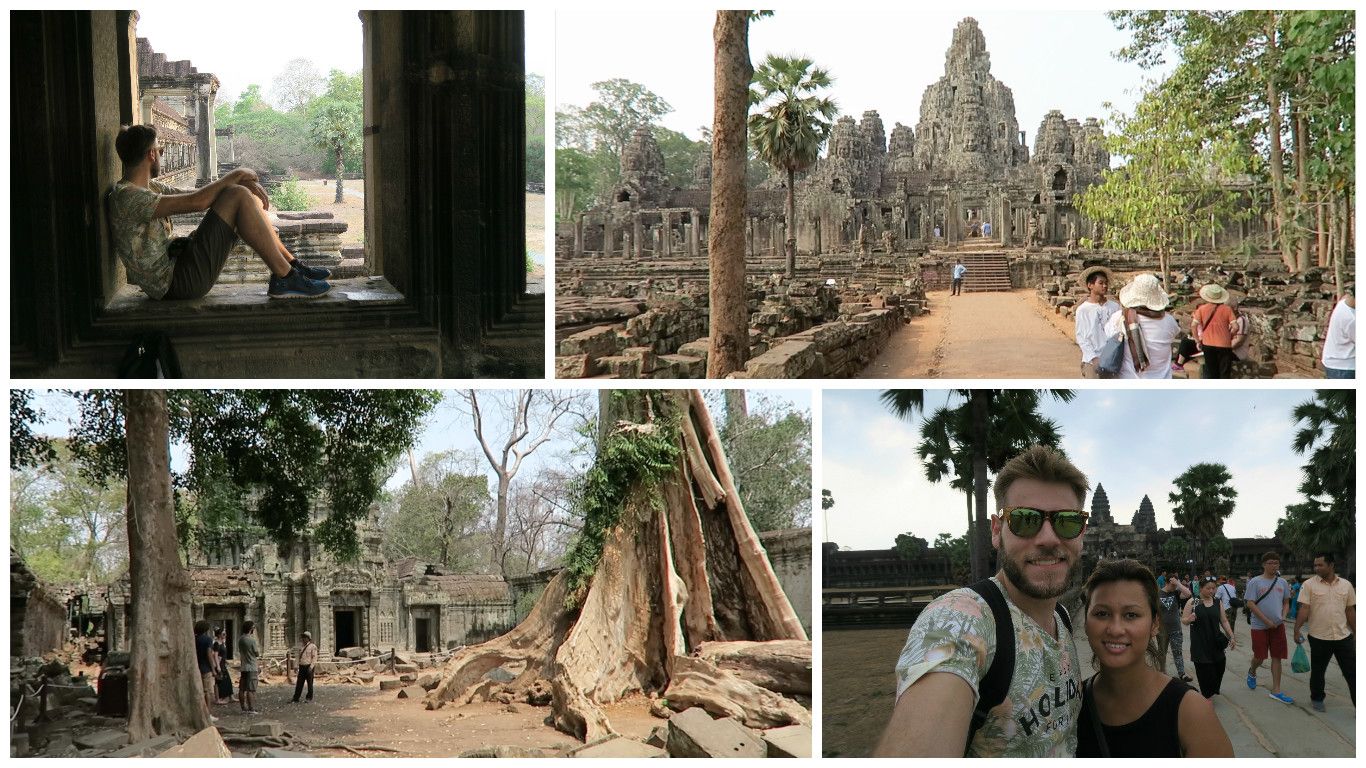 By far the biggest attraction in Siem Reap is the ancient city of Angkor. Angkor was the capital of the Khmer empire and the largest pre-industrial urban centre in the world between the 11th to 13th centuries. Within Ankgor, you'll find the biggest religious monument in the world, Angkor Wat as well as other interesting temples including Ta Prohm and Banyon Temple. For one day exploring the temples it cost us $60 USD including entry for two people and a tuk tuk.
Another than the temples, probably the biggest attraction is Pub Street where all the most touristy restaurants and night venues are. On a day-to-day basis though, there's not a whole lot to do. That's why my girlfriend Denise and I basically just spent most of our time working.
Overall
Some say that Siem Reap could be the next big digital nomad destination if Thailand further tightens their visa requirements but it's still got a long way to go in my opinion.
If you hate the idea of doing a border run or don't want to deal with applying for a longer-term tourist visa, Siem Reap may be the destination that you seek out as your next base but for me, nothing beats Chiang Mai and that's why I'm now back in Thailand.
Until next time,
Chris