Kuala Lumpur Wrap-Up: 10 Days in the Popular Asian Stopover City
I came to Kuala Lumpur for the second time this year with very low expectations. To me, there's nothing too exciting about the city in terms of being a digital nomad, no coworking spaces and little opportunities to meet nomads outside the odd the chance meeting at cafes like VCR or on NomadList Slack. After being in Chiang Mai for 2 months however, I was ok with taking a break from the scene.
To be fair, Kuala Lumpur has all the makings of a great digital nomad city. Things like (very) affordable short term living and plenty of modern cafes, malls and restaurants. However, it fails on one big thing that I desire in every city I like to stay in - a good coworking space. It's also not the most exciting city either. Once you hang out in malls all day and visit the Batu caves, you've pretty much seen KL (apart from museums, which don't interest me).
To be honest, I was dreading coming back a little bit but it ended up turning out a positive experience. Especially after spending a whole month in Ho Chi Minh City, Kuala Lumpur was a walk in the park!
Here's my evaluation after 10 days in Kuala Lumpur as a Digital Nomad.
Coworking & Cafes in Kuala Lumpur
Usually this section would simply be called 'Coworking in Kuala Lumpur' but surprisingly, KL has virtually zero coworking spaces.
As a low-cost city and one of the most transited cities in Asia, it's clear that digital nomads do come here but for some reason, nobody has built a coworking space here for them.
There was a place called 'Paper + Toast' which claims to be the very first in Malayasia but it was still in the process of relocating throughout 2016. Maybe by the time you read this it will be back in KL but unfortunately for us, there was no other coworking space in the inner city that was suited to nomads like ourselves.
As for cafes, you do have a few choices but it's a little hit and miss. Here are a few that we visited: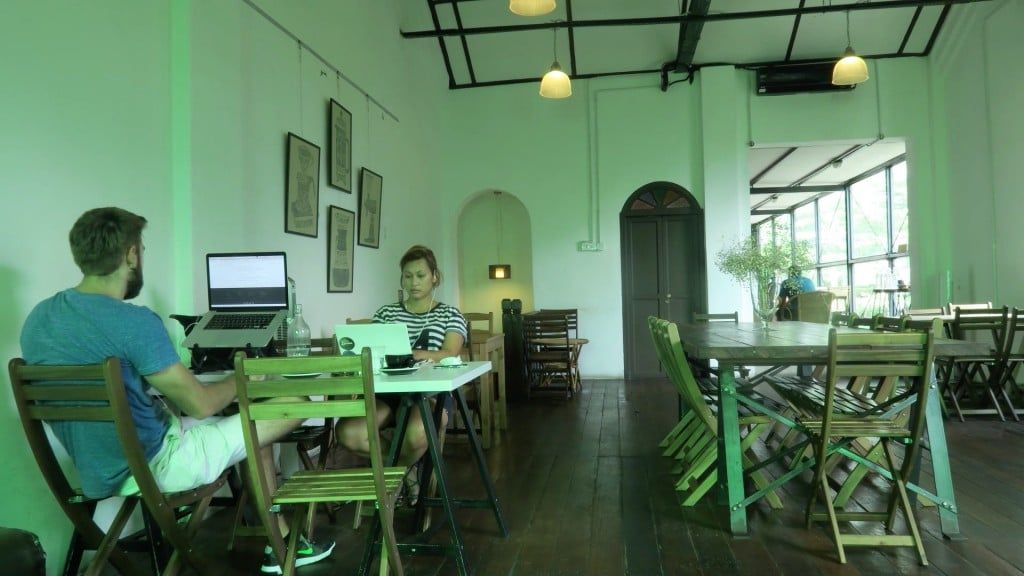 VCR in Bukit Bintang is our go-to place to work in Kuala Lumpur. If you're staying nearby and looking for the best spot, look no further than VCR.
Why is VCR the best? Well, it has almost all the right characteristics of a nomad coworking space contained in a cafe. The place is one of those cafes that appears to be set up to accommodate laptop users. It has lots of big tables, power points and proper seating. Many other nomads work there and the management seems to understand what's going on and is ok with it happening. One thing for sure is that you won't feel uncomfortable whipping your laptop out here.
Speed Test: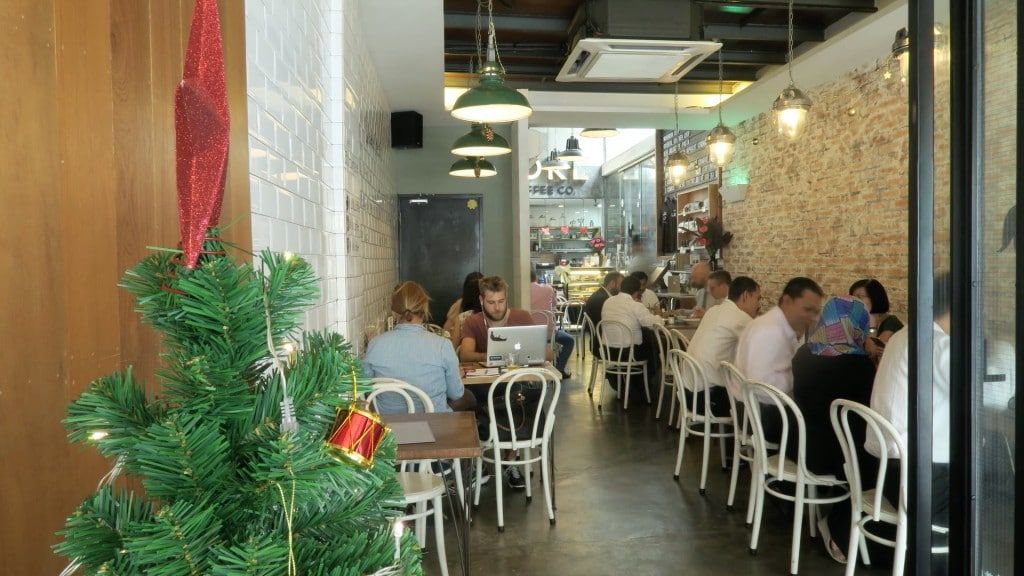 LOKL in KL's city centre was a recommendation from a blog that initially confused us. Unlike VCR, we saw no other people on laptops and so we awkwardly pulled them out and got to work. During lunch, the place filled up with nearby office workers on their lunch break. We worked the whole day there and had no issues with staff however, we probably wouldn't return either as it's not exactly intended for digital nomads.
Speed Test: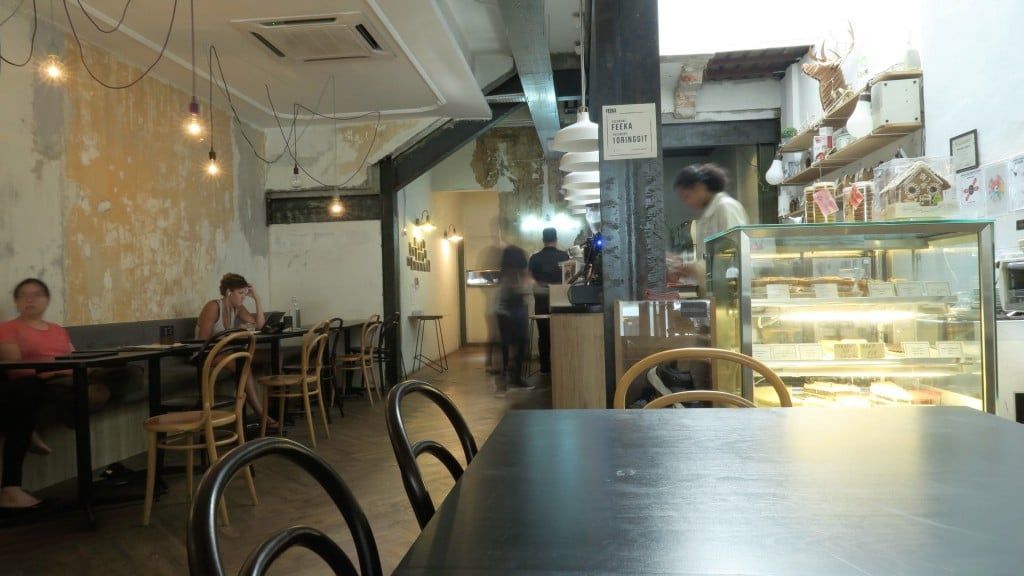 Feeka would have to be our #2 cafe to work from in Kuala Lumpur. As soon as we walked in, my girlfriend Denise (who I mean when I say 'we') spotted another nomad from Chiang Mai. This is always a good sign when you arrive a new cafe and are not sure if it will be accommodating to laptop workers.
Despite the WiFi not working for me for the first 30mins-1 hour, it seemed like a good second choice to VCR as it was similar in all criteria such as other laptop workers, power points, good seating and quality food and coffee.
Speed Test: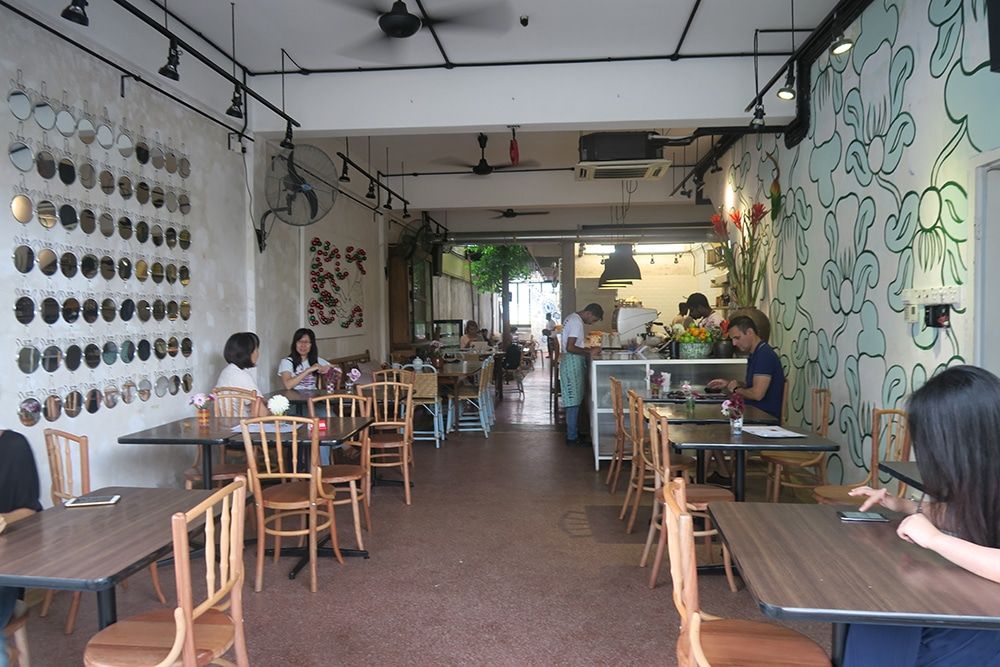 DR.Inc in Bangsar was a complete miss - actually the first miss was heading to Einstein Cafe first (another space we found online which apparently no longer existed). As soon as we arrived at DR.Inc, Denise looked at me as if we'd made another mistake. The cafe wasn't setup for digital nomads at all. There were a lack of power points and when I asked for the WiFi, the waiter told me that it wasn't available. We ended up having lunch there instead and using Denise's phone to tether the internet.
Cost of Living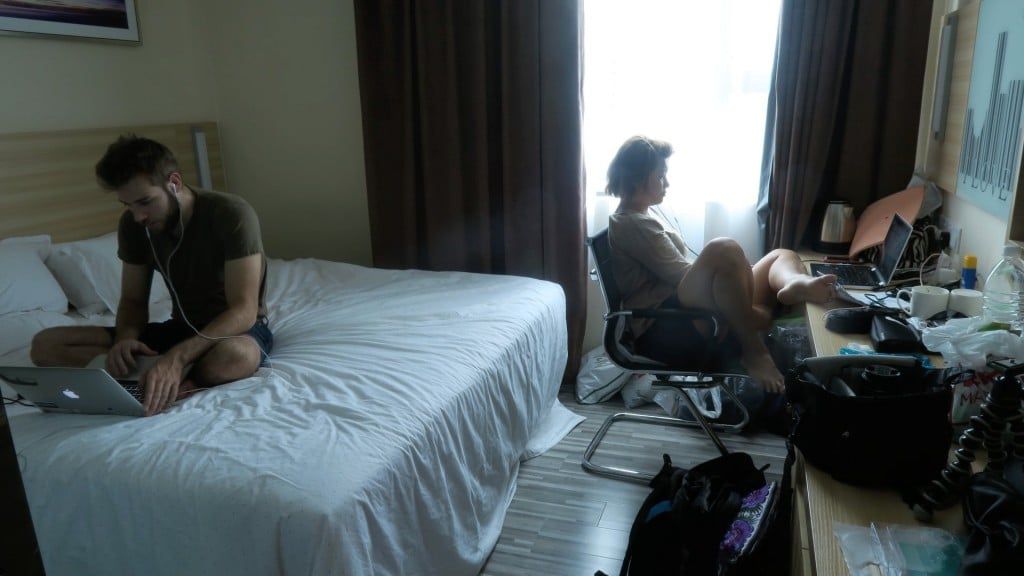 For a modern metropolis like Kuala Lumpur, the cost of food and short-term accommodation is quite affordable.
For accommodation, I'm not sure what the protocol is for longer-term stays (ie. a month or more) but for booking hotels online, you can find plenty of centrally located rooms for less than $50 USD per night. A quick search on Booking.com will reveal the average rate per night is around $44 USD per night but you can find hotel rooms for as little as $15 USD. The hotel we stayed in for example, cost us around $37 AUD per night (~$28 USD).
For transport, the way to get around in Kuala Lumpur is still by car (however they are investing in better public transport). With apps like Uber and Grab, this is no problem as the roads in KL are very efficient and the rates for ride-sharing are very affordable. Apart for the ride from the airport (which was 75 RM ($17 USD)), we spent on average around 8RM ($1.85 USD) on each trip we took around KL at average distance of 4.38kms and 12 and a half minute duration.
In terms of food, KL is another one of those places where you can spend as little or as much as you want on eating out. The cheapest meal we had was a Roti Canai with coffee and three curries (just the sauce for dipping) for 3.90RM each (~$1 USD) and the most expensive, was a Nandos feast which cost 41RM each (~$10 USD). Denise and I like a lot of variety so our food bill ended up quite a bit bigger than what you could achieve in KL. Here's a few other examples:
Lunch at VCR - 20RM ($4.62 USD)
Medium Llaollao frozen yogurt - 14.90RM ($3.45 USD)
Large McDonalds Meal - 11.84RM ($2.75 USD)
Lunch at a nice Chicken Rice Restaurant - 15.80RM ($3.65 USD)
Starbucks coffee - 13.25RM ($3.06 USD) [Turns out Starbucks is a ripp-off everywhere haha]
The best thing about food in Kuala Lumpur is the variety and availability of all kinds of food. It's incredible the amount of big food brands that have opened up here (from Carl's Junior to Nandos to KFC to Subway to Pizza Hut) and the local joints are great also. Malaysia is a melting pot of different cultures and you will find all types of cuisines here. I was even happy to find Pizza and Pasta for under 15RM as well (unlike HCMC).
Full Breakdown of My Share of Expenses
ie. Split costs have been divided in two (except for Uber, which was mainly paid for by me)
| | |
| --- | --- |
| Dates | November 26 - December 5 |
| # Days | 10 |
| Accommodation | $187.22 |
| Food + Drink | $207.26 |
| Transport (Uber & GrabCar) | $87.86 |
| Relaxation (Mainly a Thai Massage at a Spa) | $23.66 |
| Entertainment (Heli Lounge Bar) | $9.34 |
| Connectivity (3g SIM with 3g Top-Up) | $22.22 |
| Other | $18.38 |
| Sub-Total | $549.94 |
| Flight from Chiang Mai | $177.50 |
| Total (inc Flight) | $727.44 AUD |
* This total does not include an $80 phone bill liability and other virtual expenses like web-hosting & business expenses
** Currency in AUD
Things to Do
I'll be honest, there's not a whole lot to do in Kuala Lumpur. Just search 'Things to Do' on Tripadvisor and you'll see what I mean. Apart from a few museums and a bird park, the majority of KL's attractions are it's massive and modern malls.
On this visit to KL, we didn't get up to much except working and hanging out at malls. Like Singapore, KL is a dense metropolis where locals hang out indoors to escape the heat. There are tourist attractions but we had knocked them all over on our first visit to KL in February of 2015. These are things like the Batu Caves and the Heli Lounge Bar, things that lose their novelty quite quickly.
For us, Kuala Lumpur is a bit of a boring city. It's reliable, clean and inexpensive but there's not a whole lot to get up on the weekend. It's definitely an interesting place for a visit but 10 days is more than enough to check out all the must-sees.
Overall
Initially, I wasn't convinced about writing a destination report for Kuala Lumpur as to me, it's just a stopover city. In my opinion, a good digital nomad city must have coworking spaces and a good nomadic community but I've realised after travelling Asia for 10 months that those things are hard to come by as you expand outside of the bubble of Chiang Mai.
As I've become more accustomed to working out of cafes and living a less structured lifestyle, I begun to appreciate a different approach to being a digital nomad, a truer location independence, where one can literally work anywhere with WiFi.
Kuala Lumpur is one of those cities that could definitely accommodate and foster a nomadic community but for whatever reason, it remains just a big, low-cost Asian city with flights in all directions.
At some point or another, you'll probably pass through Kuala Lumpur as you travel Asia. Definitely use the opportunity to explore what the city has to offer but in terms of longer stays, it's just not there yet (imo).
Until next time,
Chris