Las Palmas Wrap-Up: One Month as Digital Nomads on the Island of Gran Canaria

Las Palmas de Gran Canaria was always on my radar as one of the world's top digital nomad destinations but truth be told, I don't think I'd ever met anyone who'd actually been there.
From my extensive online research, Las Palmas looked to have all the trimmings of an amazing digital nomad destination but yet, there didn't seem to be many people to talking about it.
That's hopefully about to change as bloggers like myself and Johnny descend on the island and share all that this amazing destination has to offer.
With a ton of coworking spaces, a lively remote work community, friendly locals and amazing weather all year-round, it's my favourite digital nomad destination outside of Asia.
So without further ado, let's get into my full evaluation of Las Palmas, Gran Canaria as a digital nomad destination.
Cafes & Coworking Spaces
Las Palmas has a surprising number of coworking spaces which cater very well to digital nomads but when it came to the cafe scene, I felt it a little lacking.
Here are the few spaces that I checked out while I was in Las Palmas: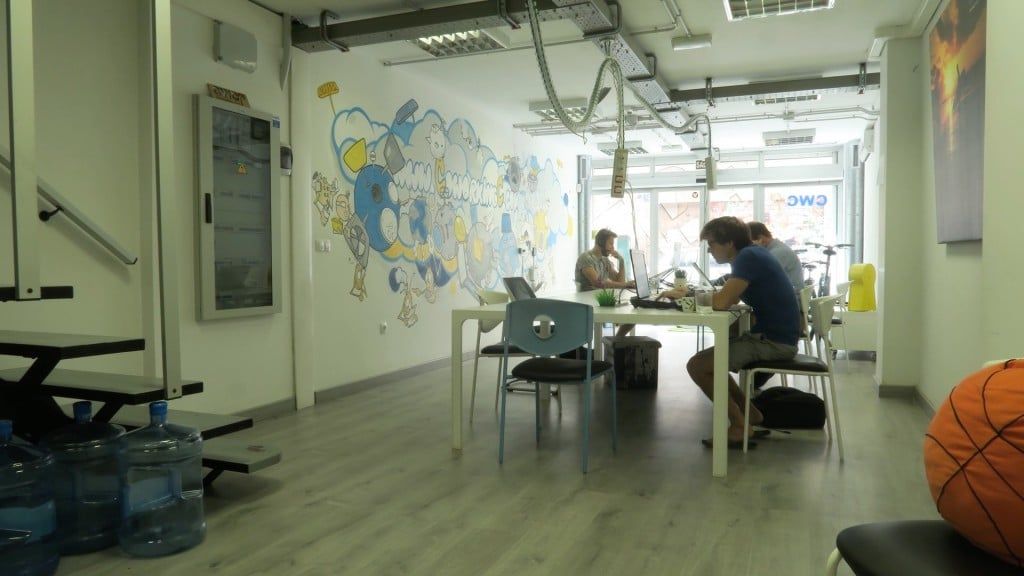 CoworkingC was a coworking space I'd been following for quite some time and I had already decided on working there even before arriving in Las Palmas.
The space's founder, Nacho Rodriquez is a leading the way when it comes to attracting nomads to the island. He's also the founder of the annual event, Nomad City and the coliving space, The Roof.
I found the space to have everything I needed as a digital nomad. The members were friendly, the working space is comfortable and the coffee machine is awesome!
If you're wondering why I didn't cover many spaces in this blog post, it's because I felt very much at home at CoworkingC.
Speed Test Results
SSID
DOWNLOAD
UPLOAD
PING
TIME RECORDED
cwc
23.93 Mbps
49.50 Mbps
7 ms
10:15 am - Aug 28
24.74 Mbps
59.17 Mbps
7 ms
12:58 pm - Aug 29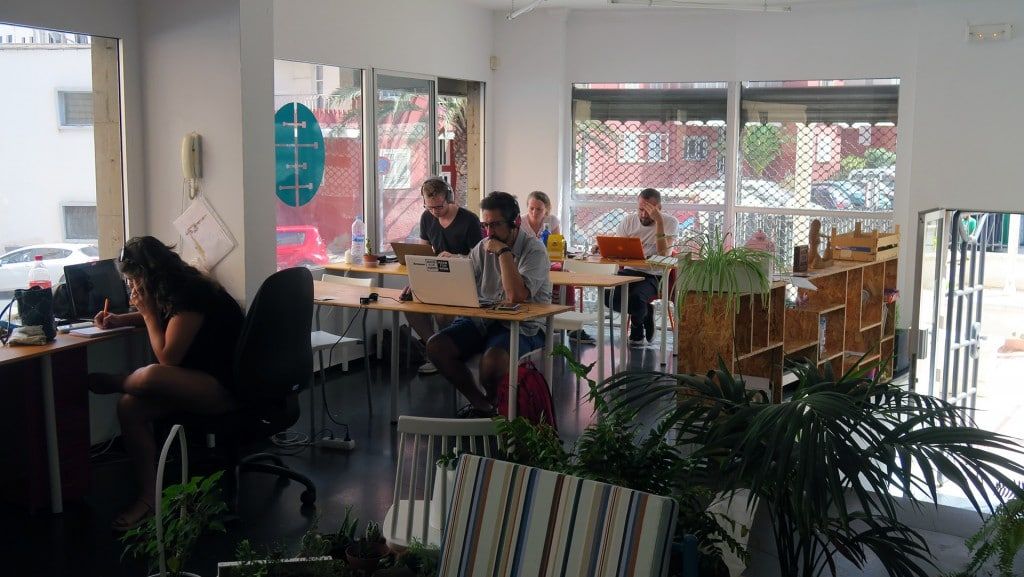 I decided to spend a morning working out of Coco Coworking Space during their free open day that they regularly hold on Mondays.
It's a space that's further south of CoworkingC, cheaper and offers more natural light. Other than that, I found them both to be quite similar in terms of quality and atmosphere.
Speed Test Results
SSID
DOWNLOAD
UPLOAD
PING
TIME RECORDED
coco
56.53 Mbps
43.59 Mbps
7 ms
9:38 am
Readers, Mirko and Olya reached out to me during my first week in Las Palmas to meet them at this Cafe called Cafe Regina, which according to a coworker at CoworkingC had the best coffee in Las Palmas.
After a breakfast meeting and several cups of coffee, we pulled out our laptops and did some work.
I wouldn't necessarily feel comfortable working out of the cafe on a regular basis but the WiFi and coffee was excellent and I did notice some other laptop workers there.
Speed Test Results
SSID
DOWNLOAD
UPLOAD
PING
TIME RECORDED
WIFI GRATIS CAFE REGINA
30.68 Mbps
20.38 Mbps
8 ms
12:14 pm
Other than Cafe Regina, I never saw any other 'nomads' working out of a cafe in Las Palmas however, I never felt the need to work out of a cafe and with the many coworking options in Las Palmas, you sure to find a space that fits your needs.
Cost of Living
Las Palmas is an EU city that is considered by the rest of Europe to be quite a cheap place to live but compared to the more common hotspots like Chiang Mai, Bali and even Budapest, I wouldn't exactly describe Las Palmas as 'cheap'.
A more appropriate word to describe the cost of living in Las Palmas might be 'reasonable' as it's much more expensive then South East Asia but a lot more affordable than living in the West.
Accomodation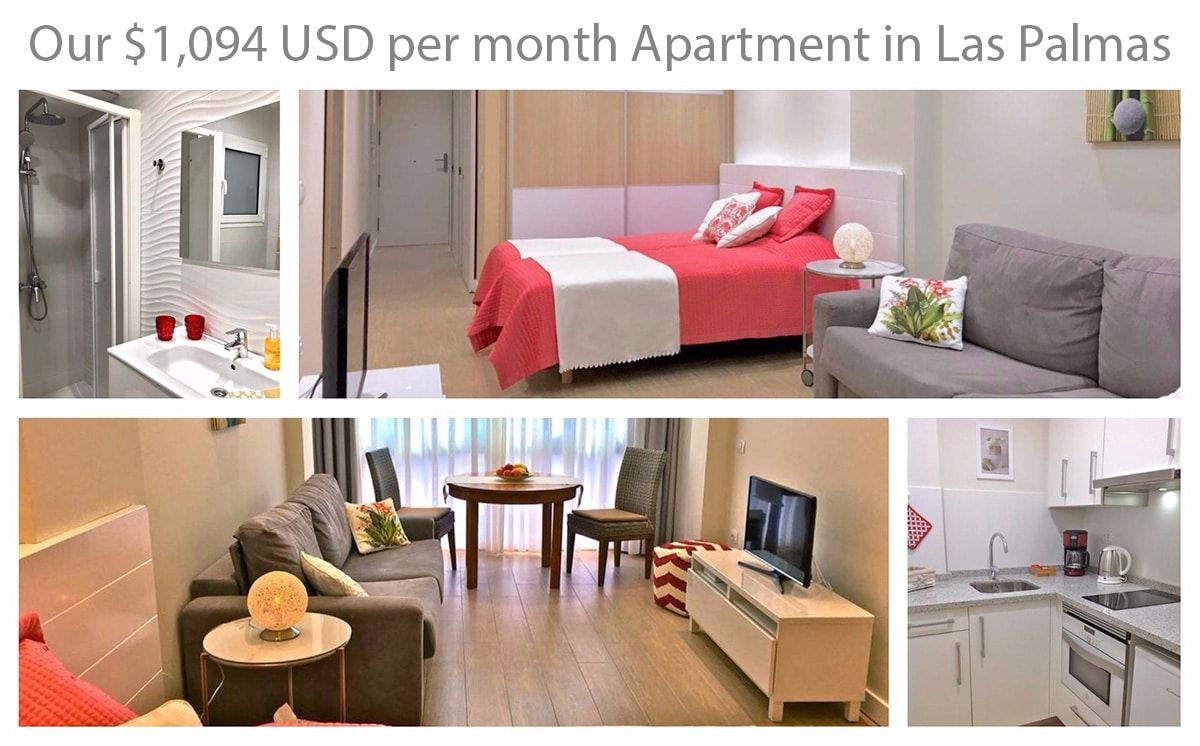 As we have done all throughout our time in Europe, we booked our apartment through AirBnB and paid $1,452.60 AUD (~$1,100 USD) for our 31 night stay.
This modern studio apartment (pictured above) was situated right on Las Cantares beach and came with great wifi, all the necessary kitchen utensils and cable TV (albeit with very few English channels).
Having no connections or previous experience in Las Palmas, we elected to take the easy and secure option but of course, if you can afford the inconvenience, I'm sure the price of actually renting an apartment like ours would be remarkably lower.
Food & Drink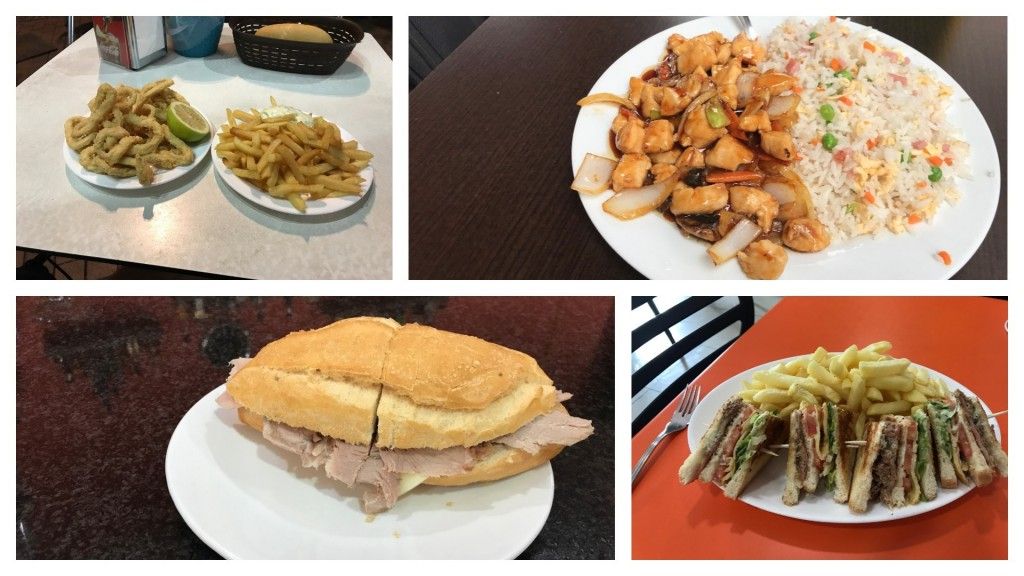 The food scene in Las Palmas is a hard one for me to describe.
As a tourist destination, there doesn't seem to be many chains that operate on the island. Cheap and easy meals were hard to come by and I'd often find myself spending up to €20 (~$24 USD) to eat at regular Spanish restaurant.
Out of all our expenses, it was food and drink that stung the most. This was the only destination we'd been to so far where we struggled to find cheap, quick and easy meals for when we didn't feel like cooking.
Surprisingly, we relied a lot on Asian food, which we found both tasty and affordable whilst being readily available across the city. Otherwise, the standard quick and easy lunch in Las Palmas seemed to be sandwhiches or bocadillos (a Spanish variety of a sandwhich).
Here's a few examples of meals and their prices:
Small Iberian Sandwhich - €3.50 (~$4.16 USD)
A premium Cheeseburger and Vegetable sticks at 200 Gramos - €9.40 (~$11.18 USD)
Club Sandwich and Fries - €5.20 (~$6.18 USD)
All-you-eat Japanese food at Samarai II - €11.80 - 12.80 per person ($14 - 15 USD)
Large Kebab Plate at Gladera Kebab House - €7.70 (~$9.16 USD)
Lebanese set menu at Mesón Libanes Grill Restaurante - €15 per person (~$17.84 USD)

Groceries
Since Belgrade, I've been recording a random sample of grocery prices for basic meats, fruits and vegetables.
Once converted to USD, I've been able to compare the prices of certain items across locations and Las Palmas definitely seems more expensive, especially when it comes to fresh produce.
Being an island, I would suspect there are some issues with the supply of fresh goods. From my personal experience, I noticed a shortage of basic produce and when I asked at the local Carrefour if they had broccoli and/or cauliflower and they admitted that they had neither.
Fresh milk is also a little harder to come by and since being in Las Palmas, we've been relying on purely on UHT Milk.
Fruits
Vegetables
Red Apples
$2 USD/kg
Onions
$1.25 USD/kg
Bananas
$2 USD/kg
Tomatoes
$1.06 USD/kg
Meats
Potatoes
$1.53 USD/kg
Chicken Breast
$5.89 USD/kg
Avocados
$5.81 USD/kg
Beef Mince
$5.77 USD/kg
Mushrooms
$4 USD/kg
Other
Eggs
12 for $2.36 USD
Bread
$1.19 USD per loaf
*Using the current mid-market rate of 1.19 USD to 1 Euro
Phone Plans
Denise and I were in a rush to find our AirBnB and so, we signed up for a phone plan at the first store we saw. The company we went with was called Lyca Mobile but I wouldn't recommend it as there's actually no Lyca stores on the island (as far as I know).
Our package was 9 euros ($10.71 USD) for 4gb and was supposed to last the whole month but I ran out after 3 weeks and had to buy another SIM card as buying a new one was cheaper than recharging.
It wasn't the cheapest phone plan I've had on my travels but cheaper than where I'm from.
Transport
Gran Canaria is surprisingly easy to navigate. Our location near Playa de Las Canteras was accessable to everything we needed within a short walking distance but for longer distances, your best options are to take the bus or rent a car or bicycle.
For car hire, it seemed like everyone I met hired through a company called Cicar, who I don't think are the cheapest but they are certainly highly recommended. A 7 day hire through them will set you back around 100 - 130€ (~$120 - 150 USD) but for us, it only made sense to hire on weekends and for that, we found rates as little as 8€ (~$9.50 USD) on Kayak but for manual transmission only.
The public transport system in Gran Canaria is surprisingly good and fares vary a lot based on whether you're travelling within the city or to the south where all the resorts are. Each time I travelled within Las Palmas, the rate was 1.40€ per trip (~$1.66 USD) but to get to the south of the island, it cost me 6.25€ one-way (~$7.44 USD).
Finally, Las Palmas is a very bike-friendly city and there are paths along the water that act as a highway between North and South Las Palmas. For a single day, you can expect to pay as little as 5€ (~$6 USD) for a hire.
Coffee & Alcohol
Both coffee and alcohol can be quite inexpensive in Gran Canaria but the price will rise significantly in the high tourism areas.
Coffee generally starts at 1€ (~$1.19 USD) for espresso and can cost as much as 2.50€ (~$2.98 USD) for a cappuccino. Lucky for me, coffee wasn't a big expense for me as I stuck to CoworkingC for both my morning and afternoon coffee.
For Alcohol, expect to pay around 2-3€ (< $4 USD) for a normal beer at a bar but at the shops, it can be as little as 0.23€. I don't drink wine but a glass of vino can be just as cheap or even cheaper. Unless you head to fancy bar, I can't see a night out costing you too much.
Lifestyle and Things to Do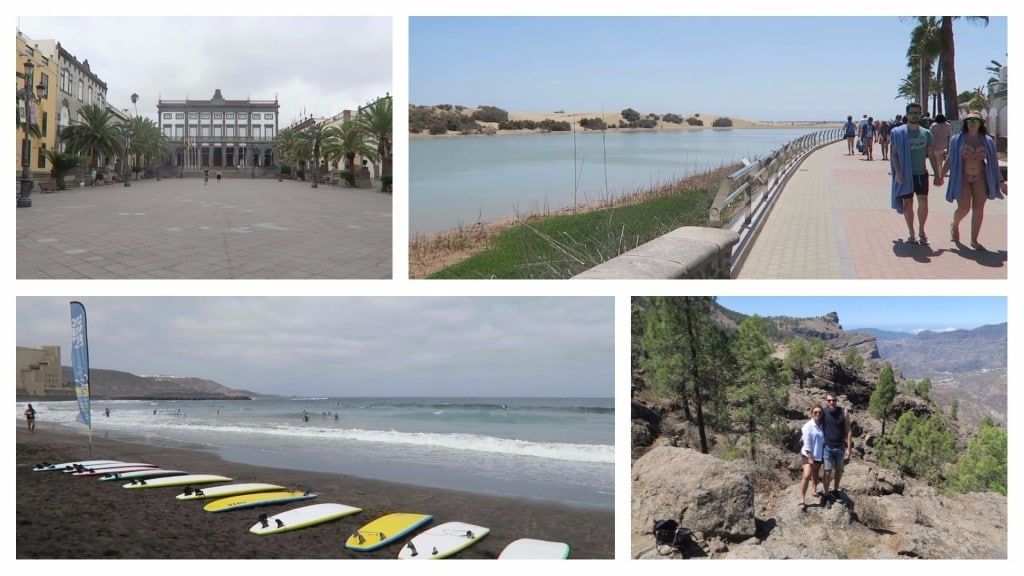 This is where Gran Canaria truly shines.
The island is said to be a mini-continent as there a different climates and landscapes depending on where you are on the island. In Las Palmas for example, when there is a lot of cloud cover, there's generally clear skies in the south and in the mountains, it can get quite cool.
Whether you're into mountain hikes, motorbike rides or just hanging out at the beach, Gran Canaria has it all. You can go for a bicycle ride along the water, take a surf lesson on the beach, explore a mountain travel or go on a boat trip. There's a lot to do.
As for the lifestyle, living in Las Palmas is quite convenient. Most things are within walking distance near Playa de Las Canteras and people are usually laid-back and friendly. The only problem I ran into consistently was finding places to grab a quick and cheap meal. Most restaurants are the kind where you sit down in enjoy yourself, so healthy fast food is not exactly a thing in Gran Canaria.
Final Thoughts
I loved living in Las Palmas. The combination of things to do, variety of coworking spaces, easily navigable city and thriving expat community made this city my favourite remote work destination outside of Asia.
Obviously, it's on a whole 'nother level in terms of prices compared to hotspots like Bali and Chiang Mai but it's worth it if you have the money. South East Asia may be cheap but Gran Canaria has a lot of other benefits such as being in the EU and a timezone that works better with the US and Europe.
If you're looking for a reliable EU destination for remote work that still offers a great lifestyle balance, Las Palmas de Gran Canaria should definitely be on your watch list.
Until next time,
Chris