Medellin Wrap-Up: 10 days in the City of Eternal Spring
Click the video below to watch our experience in Medellin on camera.
In the digital nomad community, there seems just one destination that receives more buzz than any other in South America. That is Medellin, Colombia.
Despite the hype and praise, I was almost about to skip this city. It seemed a bit rough around the edges and from a distance, the nomad community seemed a bit of a boys club.
But, after discovering an inexpensive one-way flight from Panama City, I decided 'why not?' and after 10 days in the city of eternal spring, I'm glad I came down.
Keep reading to discover why I believe Medellin truly lives up to the hype.
Where to Stay in Medellin
Before we begin, I need to make an important note.
Medellin is a large city and I didn't get to see all of it. The experience I share in this blog post is based around a particular area in the commune of El Poblado, specifically the area around Parque Lleras.
I decided to stay in this area after a tip from my friend Nick Nerov who recommended the area around Calle 10 (ie. the main tourist street of El Poblado).
Here you'll find a bunch of coworking spaces, cafes and international restaurants, all within walking distance, similar to the Nimman area in Chiang Mai. It's also the home of nightlife in Medellin and one of the nicer areas of the city.
To me, it was the perfect location to stay as a digital nomad and I'd highly recommend it.
Cafes and Coworking Spaces
Important in any good digital nomad destination is the availability of places to work from and in Medellin, Cafes and Coworking spaces are everywhere.
Here are a few Coworking Spaces and Work Cafes that I checked out in El Poblado.
Daily Rate: ~$6 USD per day | Monthly rate: ~$160 USD | First Day Free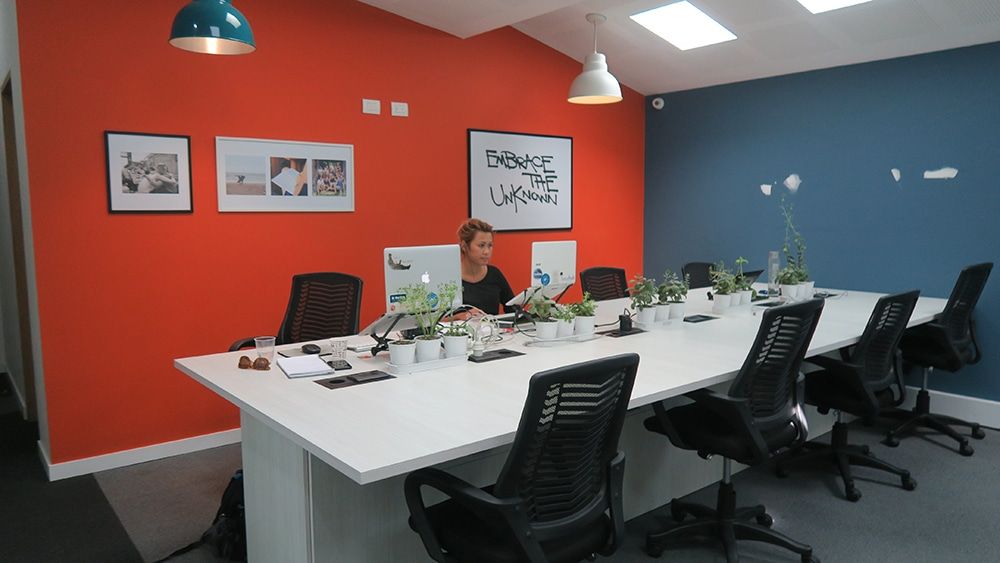 Without realising, we checked into our AirBnB at the downstairs offices of the Global Express. The building as it turns out, is a bit of a hub that includes a tours desk, rental office and of course, the coworking space on the upper floors.
Overall, it's a coworking space done well, designed perfectly for maximum productivity with a uniform desk design and seating. The cost of space however remains affordable at only $5 USD per day (or at least, that's what they told us) and the first day is free to try out.
As the internet was down at our apartment for most of our stay and the space was literally around the corner, we relied on Global Express twice during our 10 day trip.
Speed Test Results
SSID
DOWNLOAD
UPLOAD
PING
TIME RECORDED
Global_Express
18.07 Mbps
11.56 Mbps
3 ms
10:34 am
Rates starting at around $160 USD per month | First Day Free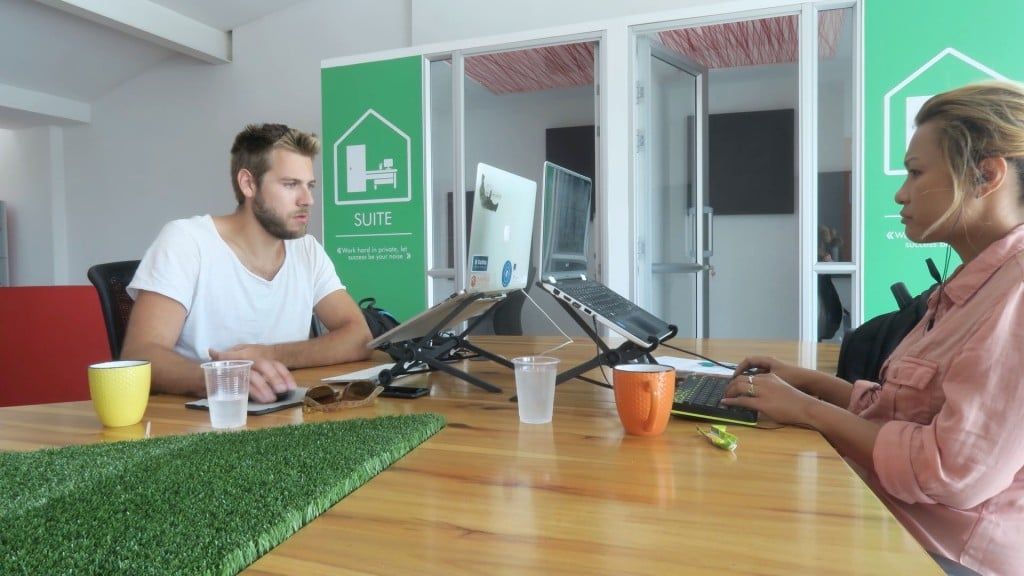 Work and Go was the second space we checked out and after Global Express, it had a lot to live up to.
While I can't fault it, there was nothing special about it that would make me return given all the other options, except of course for the high-rise view from the fifth floor.
Speed Test Results
SSID
DOWNLOAD
UPLOAD
PING
TIME RECORDED
WORKANDGO
19.04 Mbps
19.11 Mbps
3 ms
9:34 am
Rates starting at $10 USD per day or $75 USD per month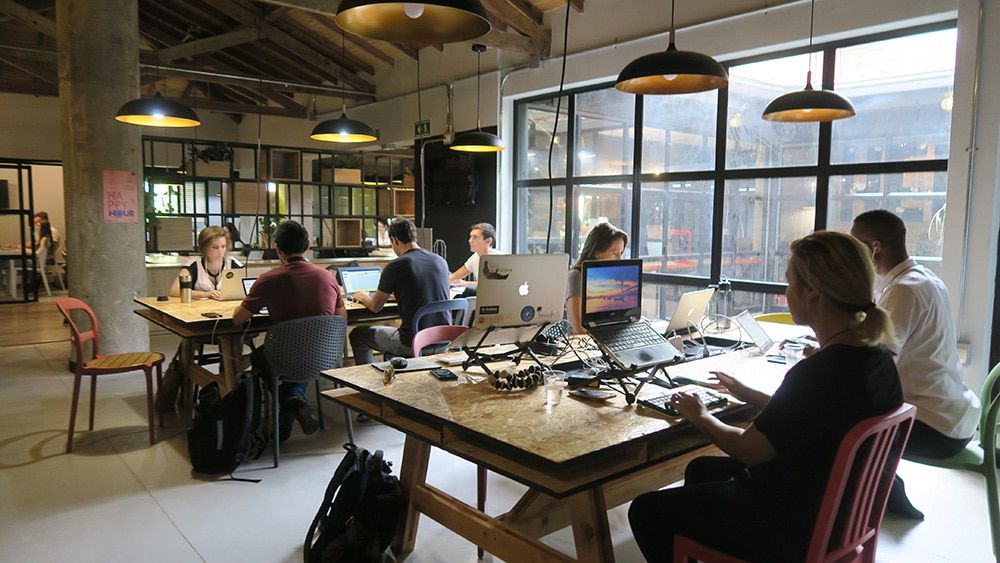 Selina is a hostel brand that is trying to create a unique experience at their locations in Latin American by offering services and facilities that cater to the new generation of travellers.
Selina CoWork is the coworking branch of Selina and currently there are 6 coworking spaces across the 14 Selina locations (but expanding rapidly).
Selina CoWork in Medellin had some of the fastest internet we experienced in Medellin but it was quite crowded with a surprising number of permanent desk members taking up half the space.
Speed Test Results
SSID
DOWNLOAD
UPLOAD
PING
TIME RECORDED
Selina CoWork
21.60 Mbps
20.39 Mbps
2 ms
10:17 am
Hourly packages start at around $70 USD for 25 hours to $150 USD for 100 hours, valid over a single month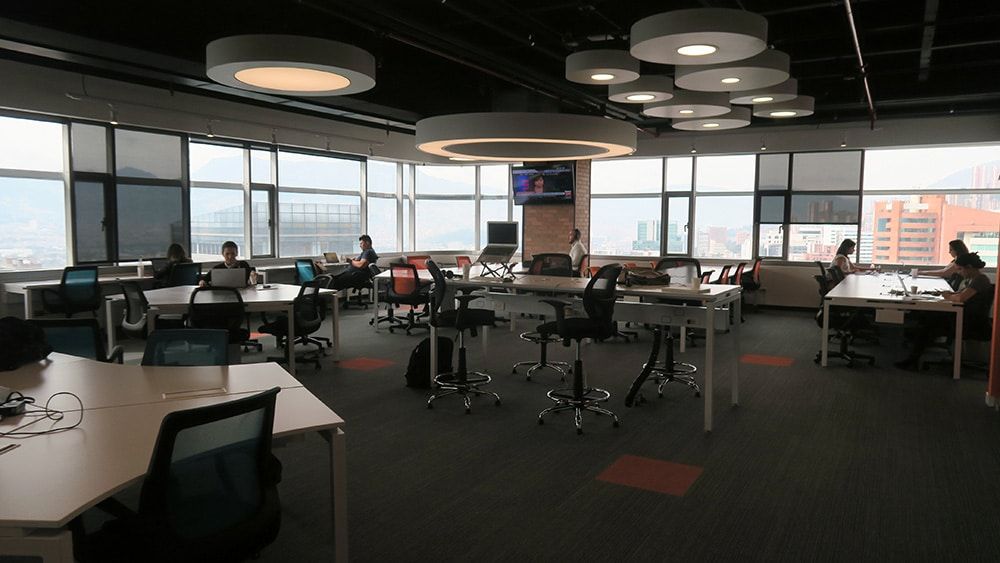 Situated near the Santa Fe mall, Tinkko was the most corporate of the spaces we visited.
They have proper meeting rooms and a view of the city from the 15th floor.
Mention Digital Nomads Medellin and get a free day pass to the coworking space ;)
Speed Test Results
SSID
DOWNLOAD
UPLOAD
PING
TIME RECORDED
VISITANTES
30.11 Mbps
30.82 Mbps
2 ms
4:09 pm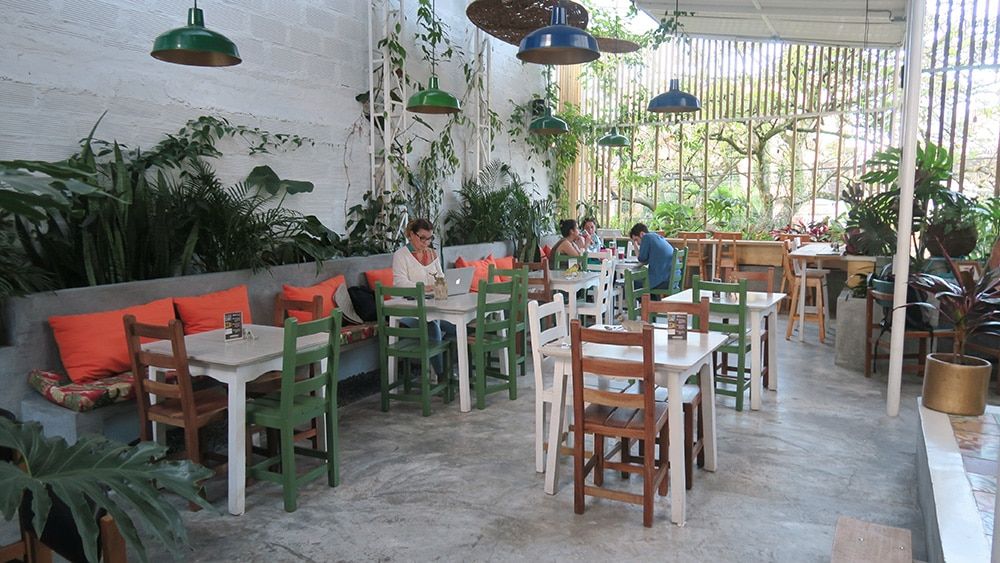 Moving onto the cafes, Verdeo is predominantly a vegetarian restaurant but has insanely strong coffee and offers a lush garden environment to get inspired.
Ergonomics are what you'd expect from a cafe and power points aren't all that common.
Speed Test Results
SSID
DOWNLOAD
UPLOAD
PING
TIME RECORDED
AMIGOS VERDEO
30.90 Mbps
7.68 Mbps
31 ms
3:05 pm - Oct 12
31.20 Mbps
9.29 Mbps
43 ms
2:15 pm - Oct 19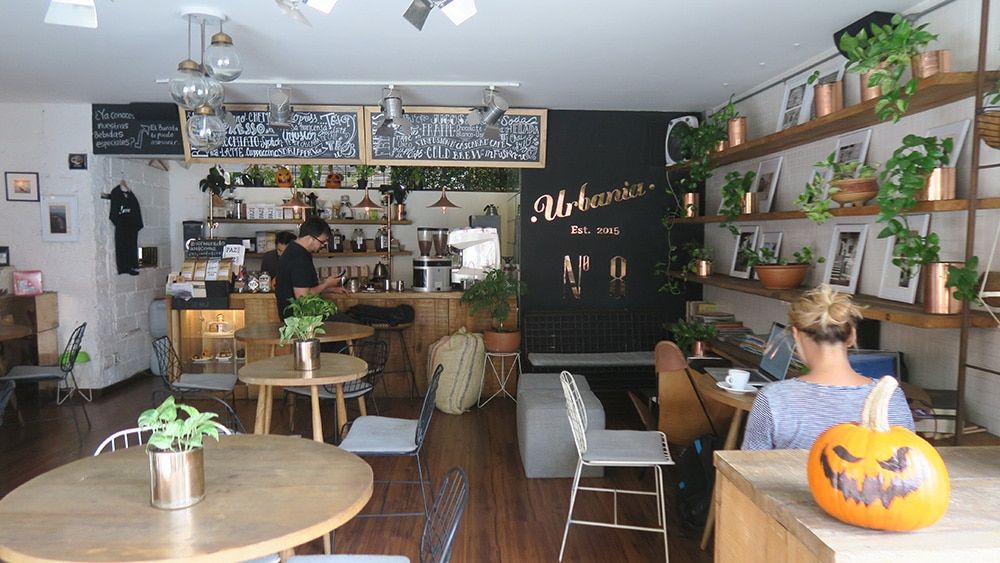 Urbania was a cafe that provided good enough internet but wasn't as practical for remote work in terms of ergonomics and availability of power points.
Speed Test Results
SSID
DOWNLOAD
UPLOAD
PING
TIME RECORDED
Urbania Cafe free WIFI
20.46 Mbps
7.49 Mbps
40ms
10:15am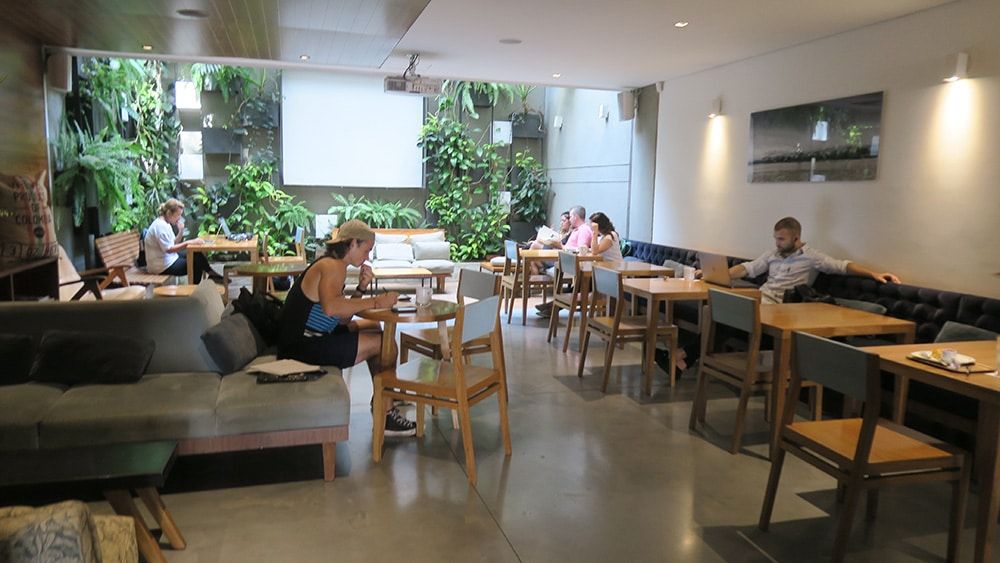 A surprising winner in our search for the perfect work Cafe was Cafe Velvet, a space that seems to consciously cater to digital nomads and was our saviour during the Día de la Raza, a public holiday in Colombia.
The Cafe has good food and coffee but best of all, a ideal set up for laptop work, especially in the area with the couch and the roll-in desks. I definitely recommend you check it out!
Speed Test Results
SSID
DOWNLOAD
UPLOAD
PING
TIME RECORDED
Cafe Velvet
10.18 Mbps
4.62 Mbps
2 ms
9:17 am
Cost of Living
Much like Las Palmas de Gran Canaria, Americans and Europeans will say that Medellin is so cheap but of course, it still does not compare to our favourite locations in South East Asia like Chiang Mai and Bali.
Accomodation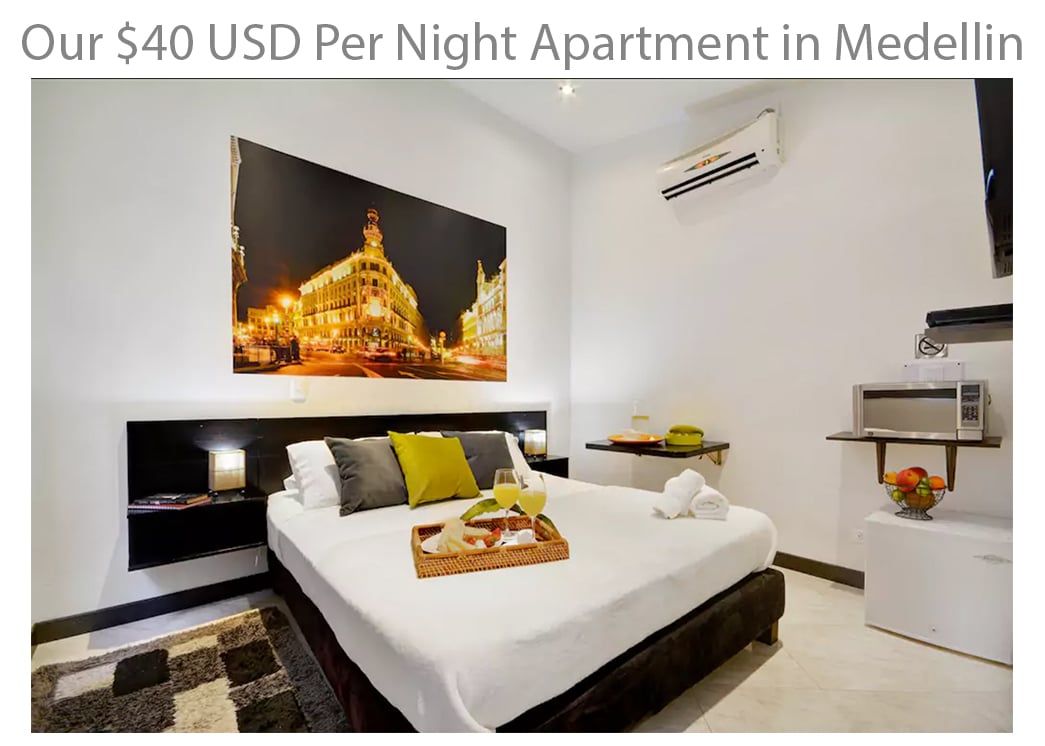 Given our short stay in Medellin, we booked our apartment through AirBnB and paid $561.79 AUD (~$432 USD) for our 10 night stay.
This modern studio apartment (pictured above) was situated right on Calle 10 in the perfect location for us but wouldn't be ideal for a long term stay as it was small and had no desk or kitchen.
This is obviously not indicative of a rental price in Medellin but I could definitely see some good value for money with friends spending only $3,500 USD for a 5 bedroom penthouse in El Poblado (check the video above for a sneak peak).
Food & Drink
For Denise and I, food is very important and in the cuisine department, we found Medellin to be a little lacking.
Of course, the area we stayed on the main tourist strip is probably a big factor but we found the food to be surprisingly expensive and heavy on the burgers, pizzas and hot dogs on Calle 10.
Just outside Calle 10 was a bit more up-market but at the same time, more expensive. Most of the time, we were paying $7-15 USD per meal, something we'd become accustomed to since leaving South East Asia but were hoping would be less.
Unfortunately, we didn't have a kitchen to cook in but discovered that we'd definitely need one, as eating out every day is not something we'd want to do if we actually lived here.
Some examples of meals we had with prices were:
Huevos Rancheros at D'Andre - $15,200 COP (~$5.20 USD) + Tax/Service
Chilli Con Carne at Selina - $17,280 COP (~$5.92 USD)
Hot dog with the lot at Perritos - $6,500 COP (~$2.16 USD)
Sushi Dinner for two at Hanami - $90,685 COP (~$31.07 USD)
Chicken Asado (f0r 2) at a mall food court - $24,4000 COP (~$8.40 USD)
Groceries
Like I mentioned, we didn't have a kitchen this time but I still recorded some grocery prices for you guys.
Fruits
Vegetables
Apples
$2.22 USD/kg
Onions
$1.16 USD/kg
Meats
Tomatoes
$0.80 USD/kg
Chicken Breast
$6.29 USD/kg
Carrots
$0.56 USD/kg
Beef Rump
$7.98 USD/kg
Avocados
$1.65 USD/kg
*Using the current mid-market rate of 3,000 COP to 1 USD
Phone Plans
Our phone plans in Medellin were some of the most expensive we've come across in our travels.
My initial set up with Claro came out to 53,000 COP (~$17.60 USD) for only 2gbs, a quota that I easily surpassed with no wifi at the apartment and had to top up within a few days for 44,000 COP (~$15 USD).
Transportation
Getting around was easy in Medellin with most things coming within walking distance of our apartment but those times when the walk was a little too long, we relied heavily on Uber.
While there is a metro system in Medellin, Uber is so inexpensive that it became the easy choice for us to get anywhere in the city.
Here's a breakdown of all the Ubers we took and their prices:
| | | | |
| --- | --- | --- | --- |
| Distance | Time | Price (COP) | In USD |
| 31.32 kms | 53 mins | 27,500 | $9.14 |
| 8.59 kms | 47 mins | 12,587 | $4.18 |
| 0.82 kms | 4 mins | 4,600 | $1.53 |
| 11.81 kms | 20.5 mins | 13,200 | $4.39 |
| 1.42 kms | 4.5 mins | 4,600 | $1.53 |
| 32.98 | 41 mins | 27,615 | $9.18 |
Drinking and Nightlife
I'm not much a nightlife and drinking guy but the times when I was exposed to alcohol prices, I remember them to be quite inexpensive.
A six-pack of Coronas at the supermarket cost me 20,500 COP (~$6.80 USD) and a beer at the bar, I remembered to be around 5,000 COP (~$1.66 USD).
Lifestyle and Things to Do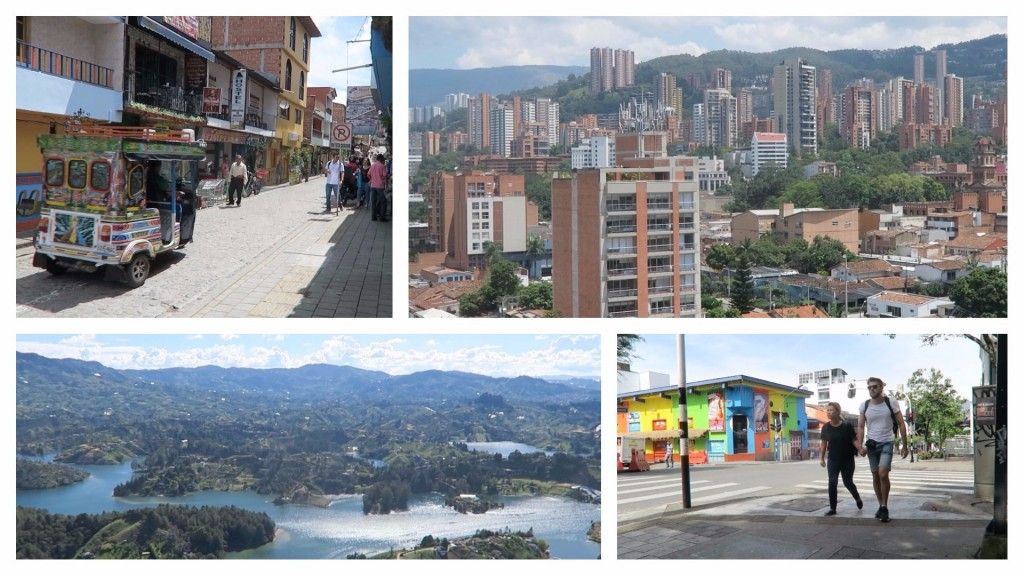 Any list of things to do in Medellin will likely include the Medellin Metrocable and the Laguana of Guatape. The metrocable is a gondola lift system that takes you into the mountain-top Parque Arvi and the Laguana of Guatape is an amazing artificial lake generated from the construction of a nearby dam. There's also museums parks and gardens but I'd highly recommend Guatape as it was the highlight of our trip.
Guatape is a small town just outside Medellin that is perfect for a day trip. The town itself is beautiful and traditional, although very overtaken by tourism. Walk out to the water to catch the ferry that will take you around the laguna and then make your way to the giant rock called El Peñón de Guatapé where you'll climb 200 metres to reach the top and check out some amazing views of the laguna.
Back in Medellin, you have all the ammenities of a major city.
Denise and I didn't get up to much except work and hang out with friends but why not attend a dance lesson while in South America? Or perhaps, check the nightlife in Parque Lleras!
Overall Thoughts
Medellin surprised me. My theory on the expat scene of Medellin being a boys club seemed verified but the amount of coworking spaces and cafes within the one small area came at a pleasant surprise.
While for me, it's no rival to Chiang Mai, I did notice three positives that both these destinations share:
A thriving expat area - Around Calle 10 in Medellin and the Nimman area in Chiang Mai
Year-round good weather, and
Surrounded by beautiful lush mountains
The biggest area in which the two cities differ is the food in which Chiang Mai is the clear winner with healthy, delicious and cheap street food. Plus the cost of living is still much less in Thailand.
Unfortunately, once you've been to Chiang Mai and fall in love with it, you end up comparing it with every destination you travel to.
For Americans and Canadians who appreciate the physical and timezone proximity to North America, Medellin is obviously a winner but for me personally, I would like to see a coworking space that caters specifically to nomads and an environment which could attract female nomads as well.
All in all, it was quite a productive and social trip. Thank you Medellin!
Until next time,
Chris