Sofia Wrap-Up: 2 Weeks of Summer in the Bulgarian Capital
Sofia has become a well-known city in the Nomad community (currently #36 on NomadList) due to it's low cost of living, modern infrastructure and position outside the schengen zone. Therefore, it became an obvious third destination of my Eastern European journey from Budapest to the Greek Islands.
Here are my thoughts on Sofia as a destination for digital nomads.
Cafes and Coworking
Much like Belgrade, Sofia has a range of different coworking spaces to choose from. Here's a quick comparison:
* Prices in Bulgarian Lev have been converted into Euros for easier readability (at a rate of 2 lev to 1 Euro)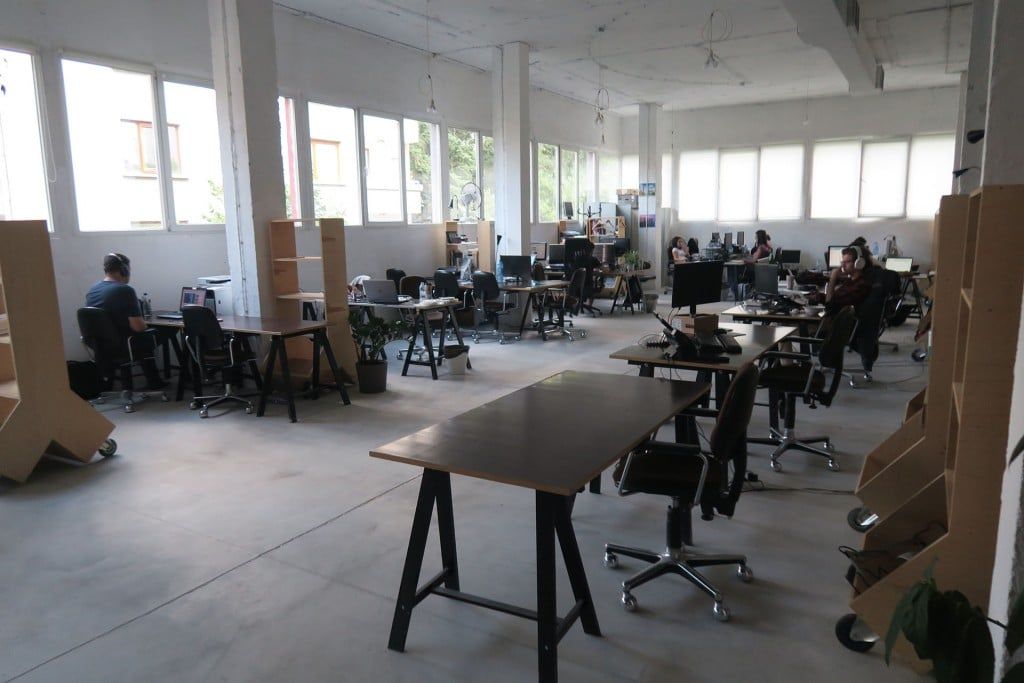 The Sofia version of Betahaus is located in a rather inconspicuous-looking building, in the middle of a residential area, in South-East Sofia.
Betahaus is a European coworking network with locations all throughout Europe but this was my first exposure to the brand and I was quite happy with what I experienced.
The internet was fast, the seating options were plenty and the building comes with multiple facilities such as the cafe at the foot of the building.
Speed Test Results
SSID
DOWNLOAD
UPLOAD
PING
TIME RECORDED
betahaus 5GHz
84.33 Mbps
78.96 Mbps
3ms
2:47pm
SOHO was actually the first space I checked out as it was the most centrally-located space on my list.
According to their website, 'SOHO combines comfortable and practical coworking space with a programme of cultural and social events for a community of creative professionals and entrepreneurs'.
In a city full of coworking spaces focused on tech, SOHO is the exception, providing a space that's more targeted at creatives and freelancers than tech teams.
I found it a comfortable place to work and it offered a nice work environment from the top floor, overlooking the area just east of Serdika.
Speed Test Results
SSID
DOWNLOAD
UPLOAD
PING
TIME RECORDED
SOHO
12.25 Mbps
5.07 Mbps
2ms
1:55pm
Work & Share was recommended to me by my friend Vlad, a local Bulgarian who is studying at the adjacent software university.
It's a newly opened space on the outskirts of the city between the Joliot-Curie and G.M. Dimitrov Metro Stations and has quite a warehouse-y feel to it.
Speed Test Results
SSID
DOWNLOAD
UPLOAD
PING
TIME RECORDED
Stage Office
49.11 Mbps
47.71 Mbps
3ms
1:50pm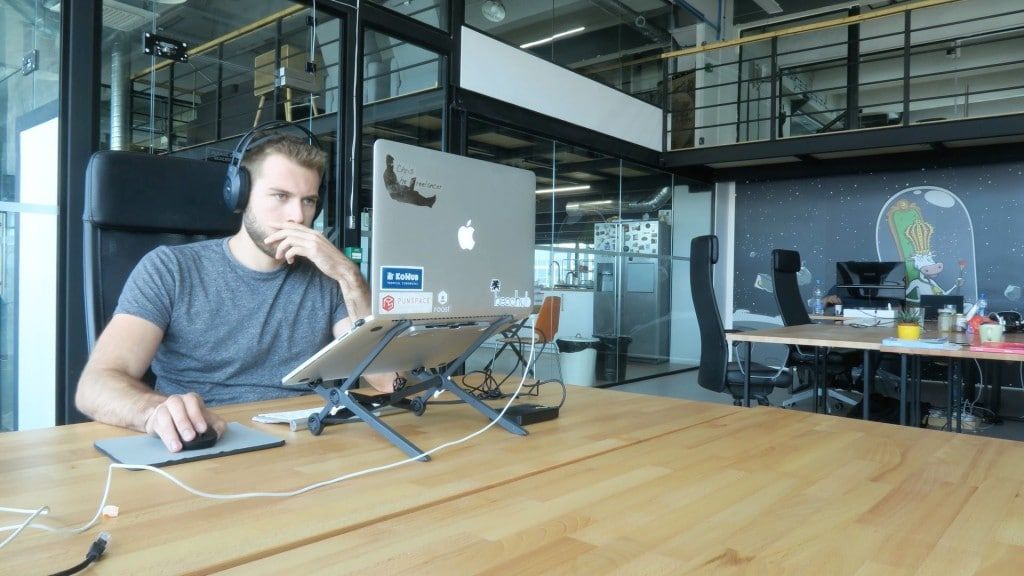 Puzl Coworking space touts itself as 'arguably the best IT coworking space' and with the vision of the company's founder Tibault, is growing fast.
The current location is on the upper floors of an old industrial building but is expanding within the next year to the next door building and has plans to drastically increase the space's facilities to include its own restaurant, a market street and a third building in the next few years.
As for now, the building may be very old (as evident by the elevators) but Tibault and the team have obviously done a great job of making a modern space out of it. I found it comfortable and comparable to the other spaces I checked out.
Speed Test Results
SSID
DOWNLOAD
UPLOAD
PING
TIME RECORDED
CowOrKingSpaceByPuzl
72.04 Mbps
47.09 Mbps
4 ms
3:51 pm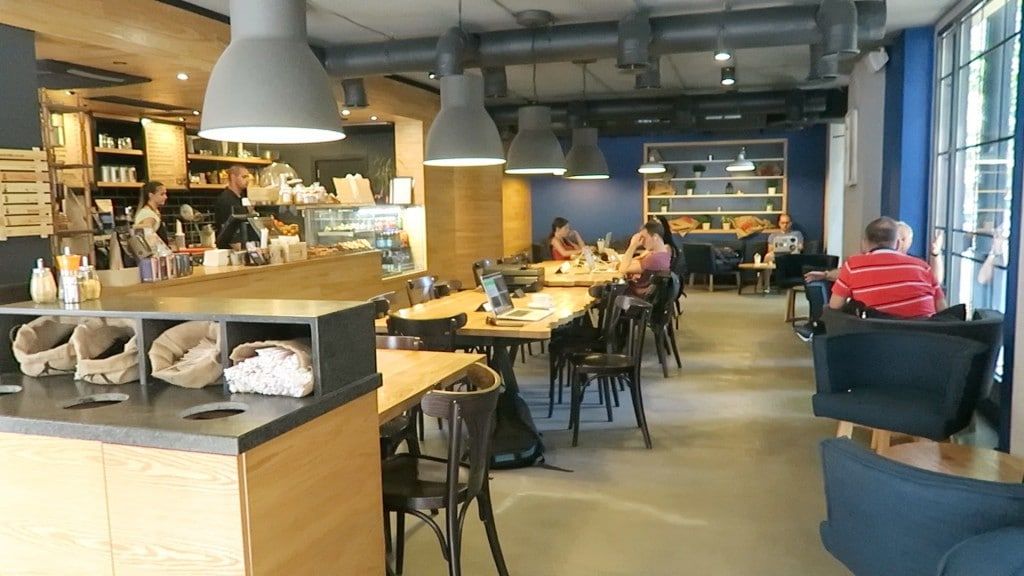 In terms of Cafes, Barista Coffee and More was the one that showed the most potential and when I visited the space, I was not disappointed.
It appears a common place to get work done as evident from the amount of laptops and the fact that I was approached by a subscriber who happened to be working there.
It doesn't have the speediest internet but for a short-term stay in the city, it's well-priced, well-located and well-equipped for remote work or study.
Speed Test Results
SSID
DOWNLOAD
UPLOAD
PING
TIME RECORDED
BaristaCoffee
3.43 Mbps
5.51 Mbps
2 ms
3:32pm
Cost of Living
In terms of our experience in Eastern Europe so far, Sofia seems to sit somewhere in the middle of Budapest and Belgrade for cost of living.
Let's run through some common nomad expenses.
Accomodation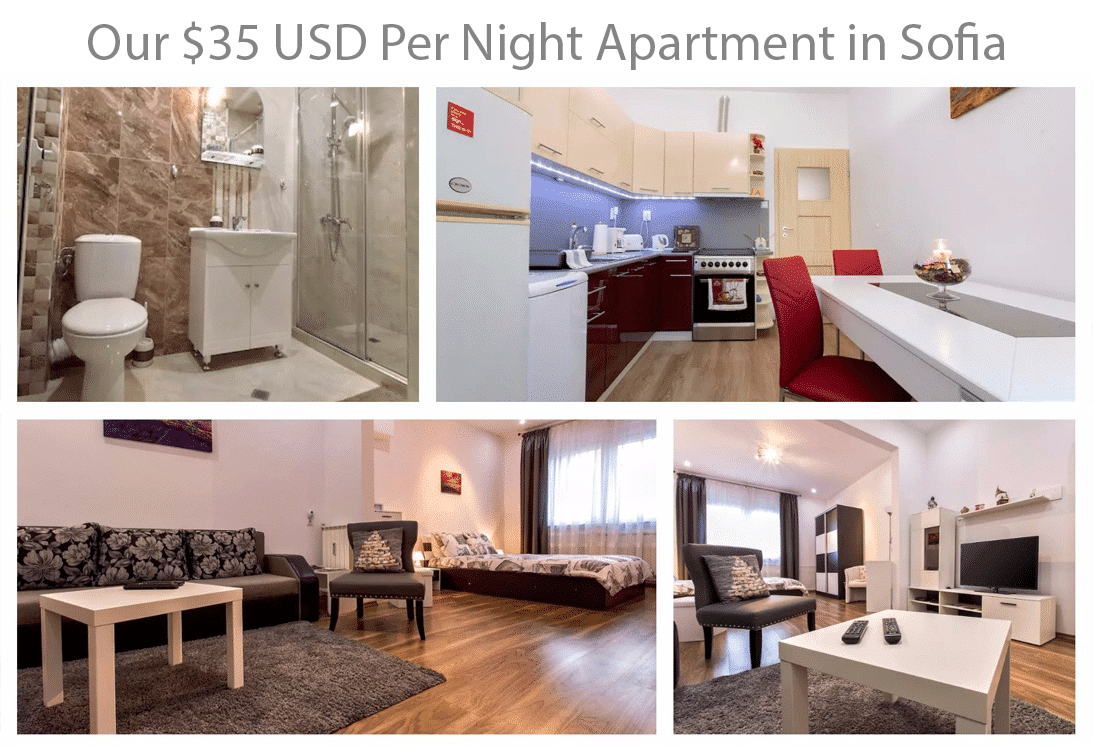 For our two week stay in Sofia, we (once again) booked an apartment from AirBnB.
Having no connections or previous experience in Sofia, we elected to take the easy and secure option but of course, if you can afford the inconvenience, I'm sure the price of renting an apartment like ours would be remarkably lower.
Food & Drink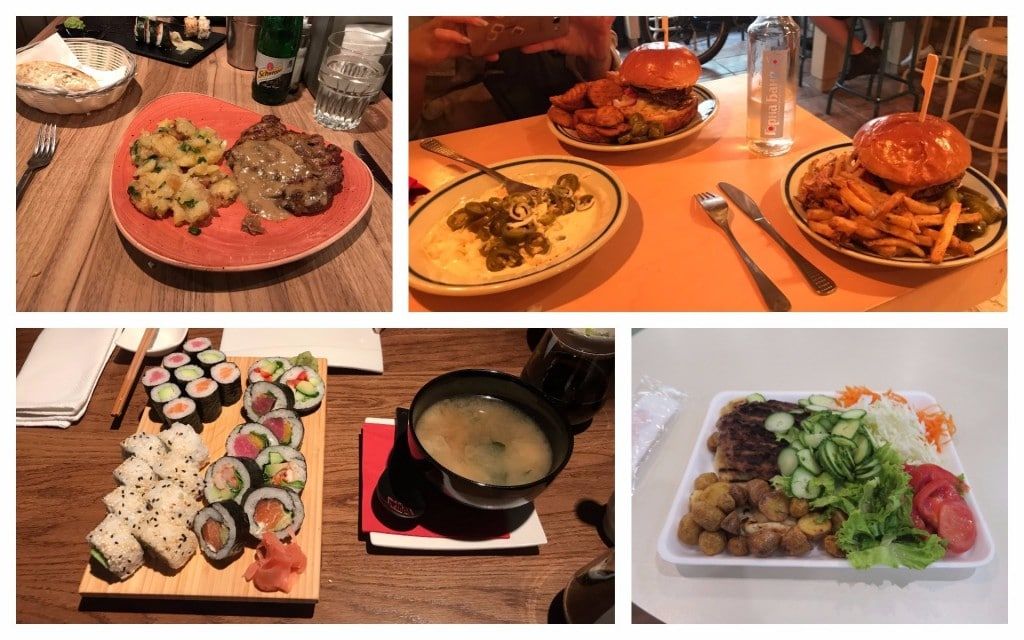 As a more modern European city, we found the selection of food and drink to be a bit more diverse than somewhere like Serbia but still very lacking when it came to Asian food especially.
Walking around the city, the two foods Sofian restaurants seemed to serve most often were burgers and pizza but there are of course, other options.
Here's some examples of meals I had out:
Breakfast for 2 at Rainbow Factory = 17.40 BGN (~$10.50 USD)
A meat dish and a Salad at Happy = 15.98 BGN (~$9.60 USD)
Sushi dinner for 2 at The Sushi Bar = 57.90 (~$35 USD)
A big meat plate with Salad & Potatoes (from a shopping mall food court) = 8.90 BGN (~$5.40 USD)
A burger and fries at Skaptoburger = 10.80 BGN (~$6.55 USD)
Overall, we found the prices quite comparable to Belgrade but when it came to Fast Food chains, the prices were way higher for some reason. We had McDonalds and KFC and both times it came out to 10 lev or more ($6+).
Groceries
I don't know whether it's because it took time for me to get used to the new currency but the super market prices in Sofia felt noticeably more expensive than in Belgrade.
When I decided to convert the prices into USD and compare item-for-item however, I found the prices to be quite similar.
Here are some of the prices I recorded across the two supermarket brands, Lidl and Billa:
Fruits
Vegetables
Bannas
$1.68 USD/kg
Onions
$0.45 USD/kg
Apples
$1.50 USD/kg
Tomatoes
$0.90 USD/kg
Avocados
$1.80 USD
Potatoes
$0.35 USD/kg
Meats
Carrots
$0.71 USD/kg
Beef Mince
$6 USD/kg
Ice Berg Lettuce
$0.90 USD
Pork Mince
$4.20 USD/kg
Other
Eggs
6 for $1.02 USD
Bread
$0.45 USD per loaf
*Using the current mid-market rate of 1.66 Bulgarian Lev to 1 USD
Transportation
Unlike in Belgrade where we took taxis everywhere, in Sofia we found it much easier to use public transport.
The route maps may not yet be on Google Maps - Moovit is the app to check metro, tram and bus routes - but the actual system of public transport is very reliable and exapnsive in Sofia.
The only times we needed to catch taxis were to and from the airport as we had our bags and couldn't afford to waste time. Both ways, the journey cost about 13 lev (~$7.80 USD) each.
As for the public transport system, a single journey costs only 1.6 lev (~$1 USD) but be warned! The buses only take coins and don't return any change.
Drinking Alcohol & Coffee, Phones and Gym
I'm lumping these categories together as these were all minor expenses but nethertheless, ones you might be concerned about.
Drinking alcohol as you might expect from Eastern Europe, is quite cheap, especially when drinking beer. Half a litre of beer at restaurant like Happy (mentioned early) was only 3.50 lev ($2.10 USD) and from the store, you can find bottles anywhere from 0.80 to 2 lev ($0.50 - $1.20 USD).
Coffee was just as expensive as it was in Belgrade but a little cheaper than Budapest at around 2.50-3 lev ($1.50 - 1.80 USD).
We got our phone plans from a provider called Mtel for only around $4 USD and it included 4G of data.
Finally for gyms, my friend Vlad helped me get setup at an awesome gym called Pulse Fitness and Spa for one week at only 4 lev ($2.40). The only issue was that it required a bus ride and walk of 20-40mins to get to the gym each time I wanted to go.
Gyms closer in the city include Silver Gym and Fitness Belize.
Silver Gym made me a price on the spot of 20 lev (~$12 USD) per week and when I asked about a month, they said anywhere from 50-80 lev (~$30-50 USD). This was unlike Fitness Belize who had a set price of about 6 lev per session ($3.60 USD) and of course, rates for monthlies as well (Sorry! I lost the price sheet!) .
BTW: You can see a tour of Pulse Fitness and Spa in this video.
Lifestyle and Things to Do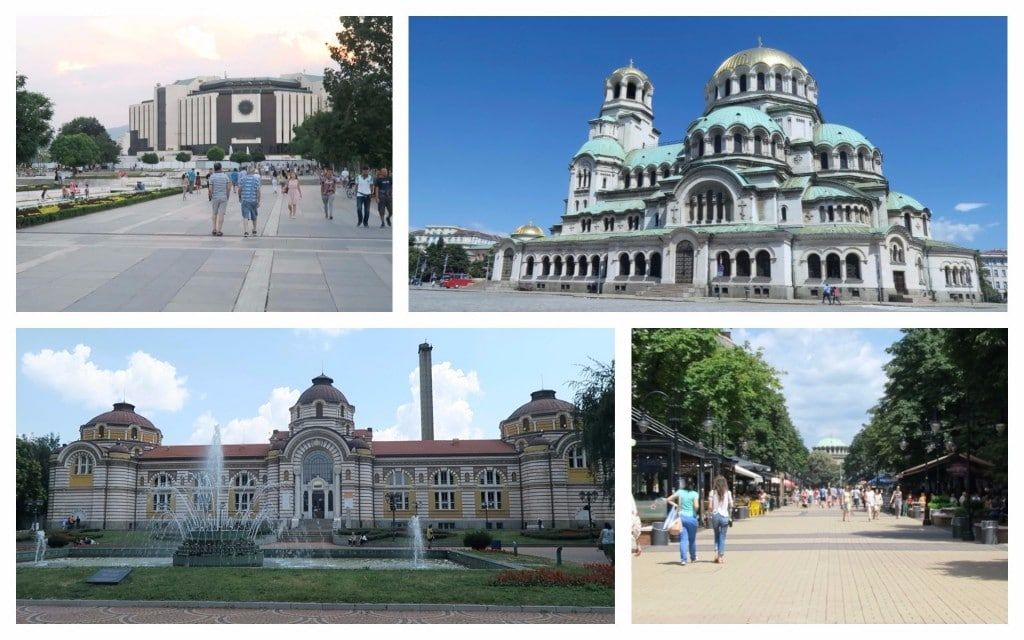 The list of top attractions in Sofia include the Cathedral Saint Alexander Nevsky, the Vitosha Mountain and the Vitosha Boulevard, most of which I came across during chance encounters of walking around the city.
If you like history, there are plenty of historical sites and museums in Sofia but to me, the biggest defining factor of the city is the Vitosha mountain, a sight that follows you almost everywhere you go. Unfortunately, I'm still yet to get a close-up of the mountain but if I was here in Sofia as a tourist, I would have definitely checked it out.
In terms of long-term lifestyle, it's a pretty standard European city. The metro is great for getting around, there's plenty of cafe/restaurants in the city centre and very good internet. Not much to complain about!
Final Thoughts
Sofia is a historical, yet modern Eastern European city that lies within the EU but not in Schegen zone.
As I mentioned in the introduction, what makes Sofia of interest to digital nomads is the low cost of living, the great infrastructure (including the internet) and the position outside the Schegen zone. All of which make Sofia a great option to spend more time in Europe while getting work done with a comfortable standard of living.
For me personally, there's nothing overly special that draws me to the city as there's no organised nomad community or networking opportunities. That being said, there are a bunch of digital teams flooding here for the excellent conditions as evident by the booming tech scene.
The only major downside to living in Bulgaria is the Cyrillic alphabet that they use in their writing, as apposed to Latin alphabet that we use in English. It's not a huge deal but it does make translating and understanding signage much more difficult.
Overall however, Sofia was great for a bit of time outside of the Schegen zone and good contrast to Belgrade and Budapest.
Until next time,
Chris